Well, I promised you all a blogging bonanza and you are going to GET IT! And not in the way that the mom says it in A Christmas Story, either, which by the way, I totally love. More like "gonna get it" in the good way.
Before we proceed, I'm going to warn you that in the very near future, I'm going to be making a post about senior pictures because I'm looking for senior reps and I want to advertise on Facebook. I need a good landing page, though, so I'm going to send them to my blog with some samples and details. For all my usual, faithful readers (thanks!), there won't be anything you haven't seen, I promise not to sneak anything in on you, and you can definitely feel free to skip it. And then we'll be back to regularly scheduled posting with Kristin & Justin's engagement session, which you should definitely get excited about if you love cute couples and cute dogs. And really, who doesn't?
Okay, now on with the show!
The thing about senior pictures is that I LOVE them. And I mean, LOVE. Every single one that I do is my absolute favorite, and this one is, of course, no exception. Sharon found me through Craigslist and was actually my very first Chicago shoot! I would have to say that we rocked it old school.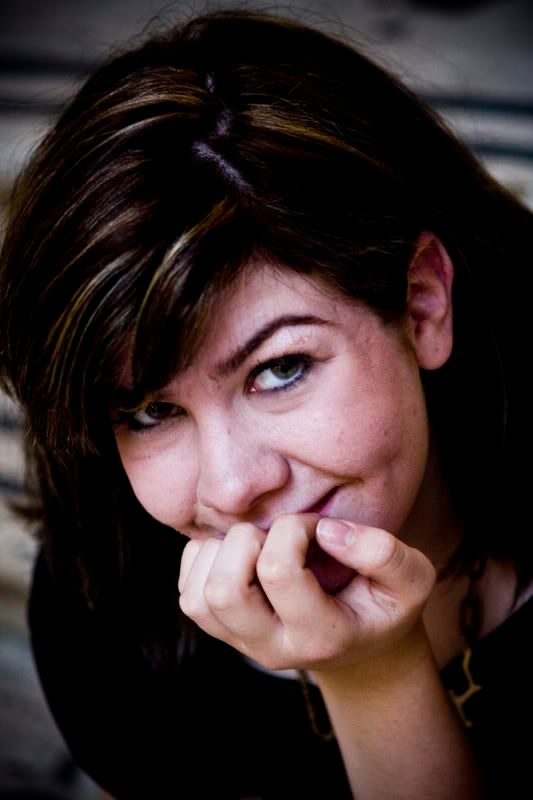 We started out at Union Station in what I THINK might be the ballroom? I am so not a native yet. Although all my Metra rides are making me pretty familiar with Union Station, I must say. Anyway, this was all her idea and you may recognize it from My Best Friend's Wedding. (Also, Dermot Mulroney WAS awesome in that, but I feel like it would disrespect my friend Anne if I don't mention how cute he was as a singing city cowboy in A Thing Called Love, which we have watched together no less than a zillion times, usually while she dyes my hair.)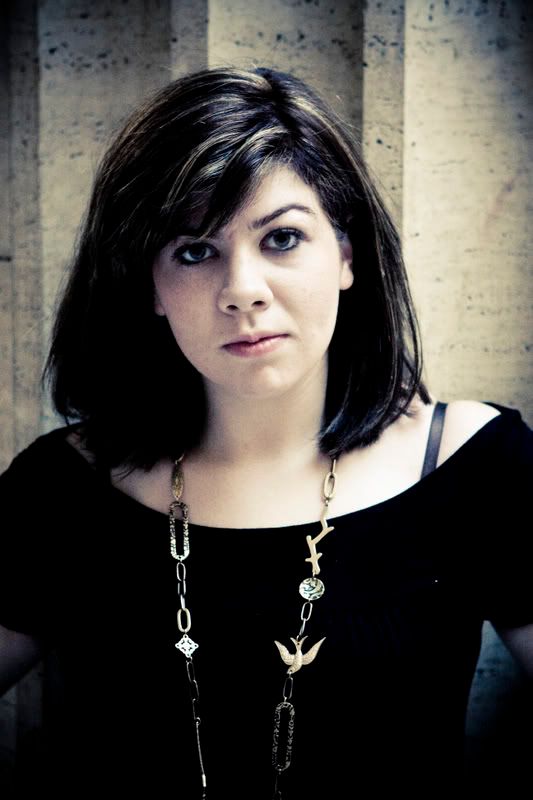 All sass, and I LOVE that necklace! I always tell people to Accessorize (with a capital A--I don't make typos like that, come on!) and this necklace is too perfect. Also, I find that I tend to like things involving birds, which I'm thinking might make me and Sharon soulmates!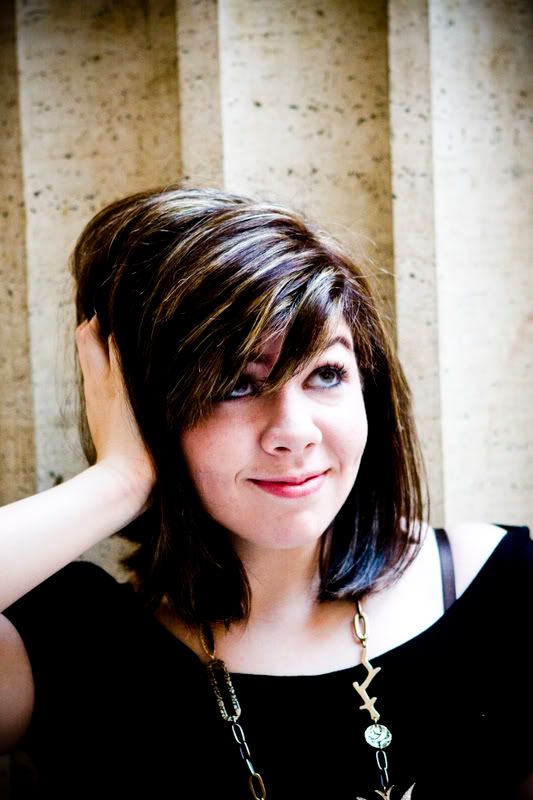 I went over to my friend Amy's house after doing this session and passed my camera over to her, and she loved this shot, and described it as "cute and cheeky". I am yet to find a better description, and in fact, every time I've worked on this picture, I've thought of that.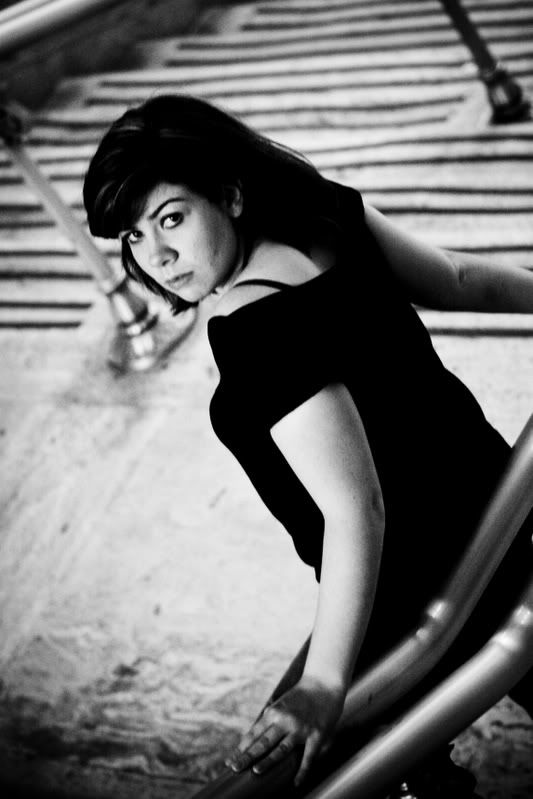 Something that I think is crazy and perfect about senior pictures is how they can go from so youthful and carefree to so mature and captivating, and I just think that's so perfect for the age. Eighteen is so like that.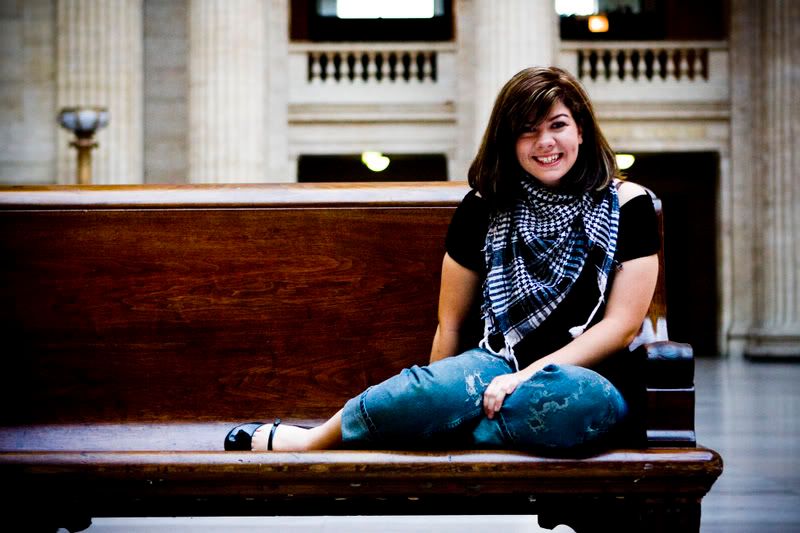 The jeans! The shoes! The too cute for words girl!
I had to put this picture up because of the story that goes along with it. Sharon was trying REALLY hard to make a serious face but having a hard time (she's a smiler, much like myself), and so she kept trying to remind herself that it was like a "MySpace picture". I laughed so hard at that I had to stop for a minute, because it was just one of those funny things that you don't think about but is SO appropriate, and I loved how she was able to get in the zone with it. :)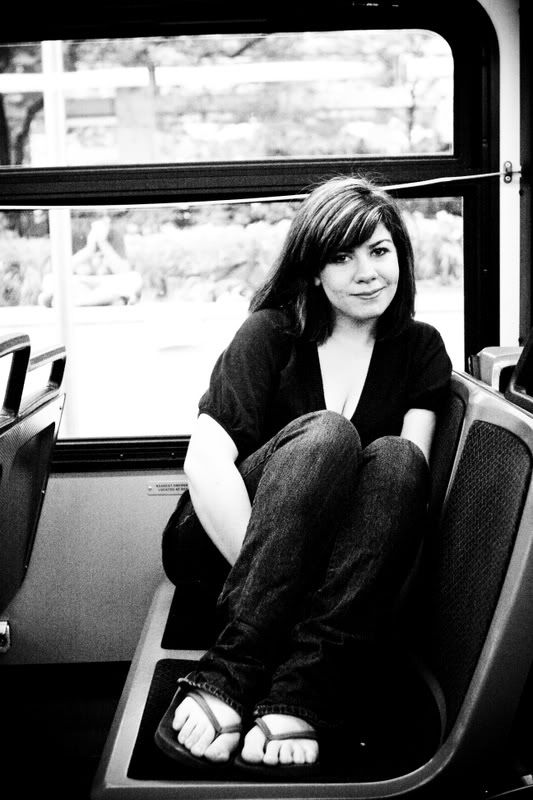 She looks SO pretty here, I think. She tucked her knees up like that because it's how I was sitting and she thought it was cute. And yeah, we TOTALLY rocked it on the city bus. No point in wasting time, right? But those pictures were some of my absolute favorites.
Here we go ... a little desaturated, a little moody. Also, through the window and only if you're looking for him, you can see the hippie hobo me and Billy chatted with for awhile. Needless to say, conversations with hippie hobos are always filled with highlights, but my favorite was when he and I got into a PASSIONATE argument about whether or not all Greyhound buses smell like pee. (They do, by the way.)
I LOVE THIS. It's no secret that I'm a city mouse at heart, and this session was SO fun for me as an artist.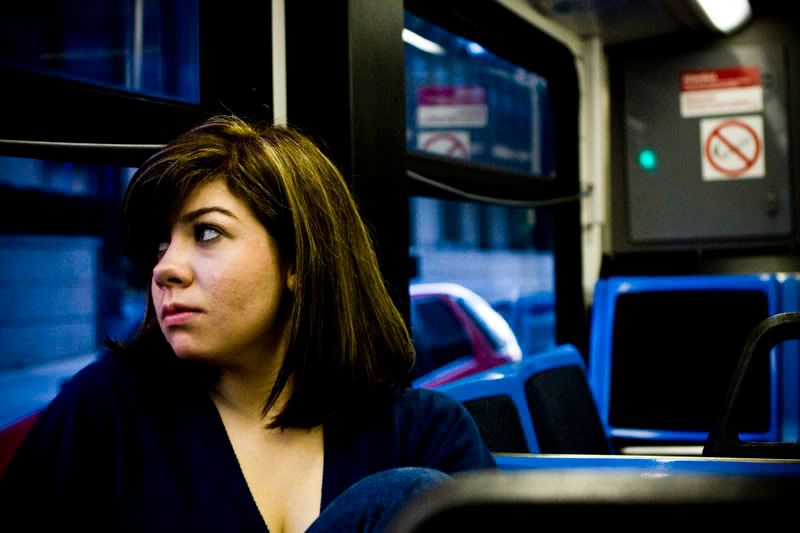 Last bus shot, but had to be shared because don't you think it looks like an awesome album cover? But for what kind of band?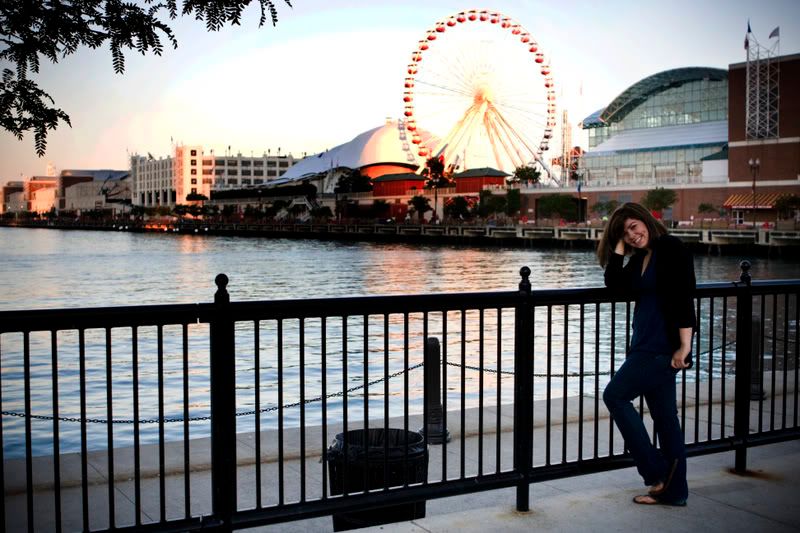 So we finally got to Navy Pier, which is where the bus was taking us. Also, can I just say right now that Sharon kind of reminds me of my friend
Erin
, who I love beyond all reasonable measures? Sharon is so bubbly and fun and cute, and it was like a flashback to Erin and college and Ben & Jerry's, and you know once B&J come into it, it's happy memories all around. :)
I could not WAIT to work on these pictures. I was actually using it as my mental incentive to get stuff done, so I could get on these. Yes, that's right ... SuperGeek over here rewards herself for hard work with more work! Ha! Don't worry, though, I might have also had a giant fountain Coke or two also. (Not that I'm addicted, of course. I could quit any time.)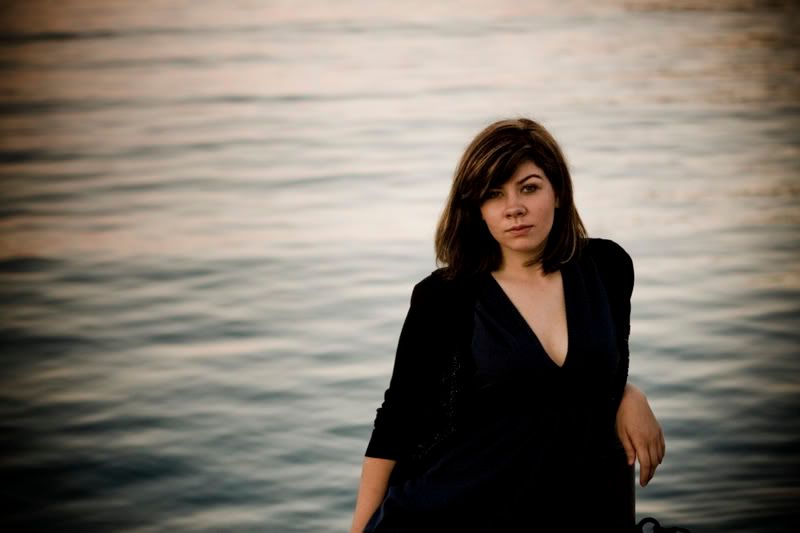 Smokin'. Also, I am like ... BESIDE myself right now to live near water. It's such a fun novelty. :)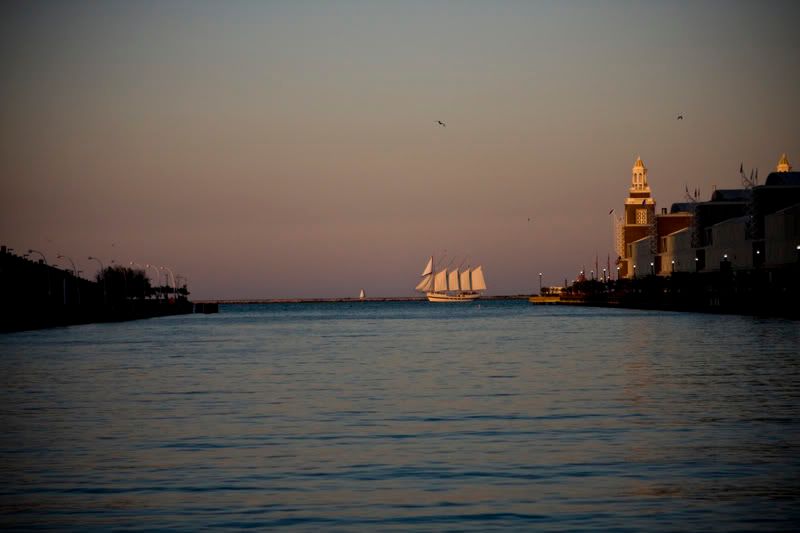 Awwww. I loved this. Doesn't it look like one of those ships that you build in a bottle? Anyway, it was such a pretty sunset and I loved that boat, and I wish my Papaw was still alive because I know he would like it too. I think of him at the most random times, but I always used to spend all year brainstorming what to get him for Christmas, and I think it's just a habit now and I haven't broken it yet.
I love this picture. She looks SO beautiful here.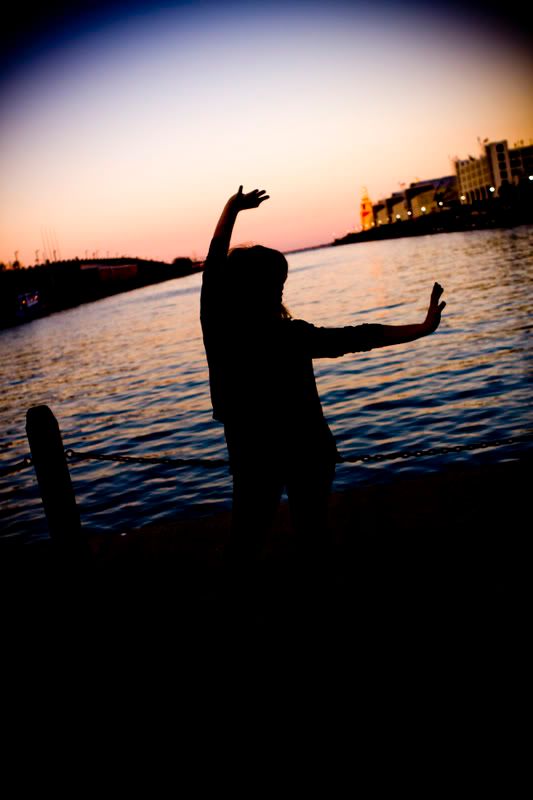 A little high contrast for sunset. :) Sharon was a fan of my silhouette pictures, so we worked those big time.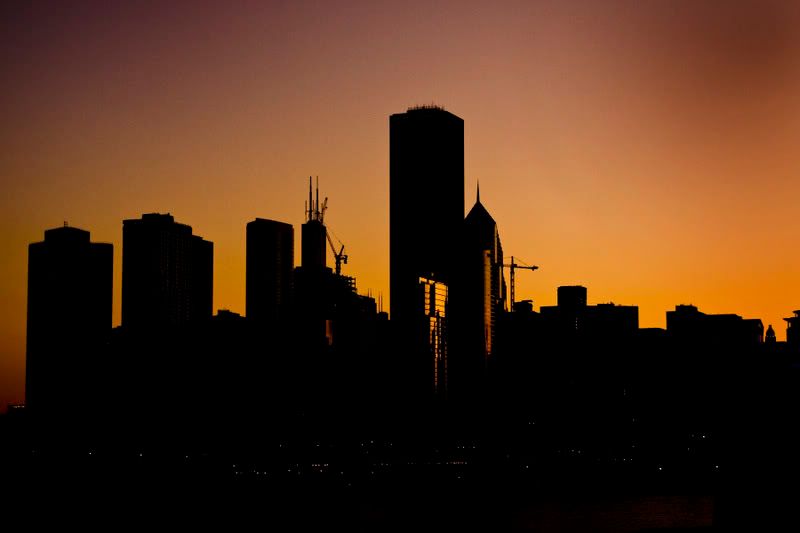 A little artistic interpretation of the Chicago skyline from Navy Pier. I'm hoping Sharon likes it. :) We wanted to get down on the beach but we weren't able to because the end of the pier was closed for a wedding, so we didn't get a lot of skyline shots but I wanted her to at least get one.
So, to make up for not getting to the water, we instead rode the ferris wheel! Isn't it pretty?
I showed Sharon this one while it was still in my camera and she got SUPER excited (another soulmate moment), which probably means she liked it ALMOST as much as I did.
Sidenote: I also want to share, before I forget, at least two other funny things Sharon said to me during the course of the day. First of all, when I was waiting for her outside and called her, I told her I was wearing plaid shorts. Very matter-of-factly she congratulated me--"Way to be fashionable!" Secondly, when we got into the station, she handed me a big wad of cash. I was just kind of surprised, maybe a little dumbfounded even, and probably said something along the lines of, "Cash?" and possibly asked if she was sure she wanted to do it that way. She just looked at me and said, "Dude, I'm a teenager!" Can't argue with that! It made me laugh really loudly, though (which, let's face it, is how I usually laugh).
Little Audrey Hepburn!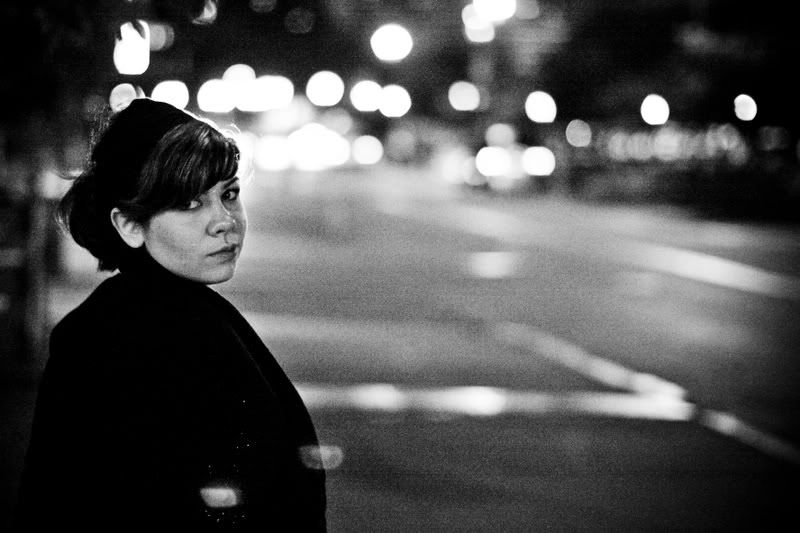 I think I showed these to Amy again later, after they were edited, and she said that this one looked like a magazine ad and I TOTALLY agree. I'm going to have to get out and shoot at night more often--it's so fun.
These last two are some of my favorite pictures I've ever taken and I'm SO proud of them. Sometimes it's hard to really look at your own stuff objectively and say, yeah, that's awesome, but I'm saying it here. In the words of American Beauty (I have name dropped SO many movies here! What's the deal?!?!), I RULE.
See? Amazingly gorgeous. And it would not have been possible without such a cute, fun, adventurous model. Thank you SO much Sharon! I had so much fun. :)