You guys, I love Kacey and Pete. They were one of my earlier couples to book, if I remember right, and Kacey and I just hit it off right away (Pete wasn't at the meeting, or we would've too). I mean, I think you can tell how lovable she is just by looking at this pic:
Also, Kacey really kept me in the loop about wedding plans, and as soon as she picked out a dress, she sent me a picture, and I was SO amazed by it. It was just unlike anything I'd seen, especially when the shoulder piece (I have no idea what the technical term for that is) goes on, and I knew she'd look stunning in it. I'd been excited to see this dress for months, and let me tell you, it did not disappoint.
And this is Pete, the one that everyone has their hands on. Kacey told me when we first met that he doesn't like having his picture taken, but if that's true, he so didn't show it at all. Although a lot of guys completely forget themselves on their wedding days because they're so happy, and then they're all smiles and up for doing anything in front of a camera, and I LOVE that.
Also, Billy and I had a bonding experience really early on with the groomsmen while we were doing group pictures. Some of the ones not in a shot were standing off to the side, singing "Day Man" from It's Always Sunny in Philadelphia. Does anyone else reading this watch this show? I love it, and I mean LOVE it, but you have to have a pretty sick and filthy sense of humor to enjoy it. Fortunately, my humor lacks in neither sickness or filth. So anyway, there was instant comraderie there, and I thought of them again when the season finale of Always Sunny was the Day Man Opera.
They went for seeing each other before the ceremony, which I increasingly think is a great idea. Before I started doing weddings, I was like, oh, but I love that moment when he sees her for the first time coming down the aisle! And I do! I so do! But I've kind of realized that you get the moment when he sees her for the first time no matter when it happens, and I've never seen a groom who has seen the bride before the ceremony NOT be excited to see her coming toward him, you know? So then you get to take all the pictures beforehand and go straight to the reception after the ceremony, and that's a plus too. But, either way, as long as you're happy and doing what you want to do, I'm all for it. :)
And look at the look on his face! Oh, I love it. :)
One of my total faves. Why can't there be a giant, whole cross-section woodpile everywhere? Oh, and that reminds me, in case anyone is wondering, this wedding was outside the lovely Oak Hill Mansion in Carmel, which I had heard about but hadn't experienced until this wedding, and it was gorgeous.
Apparently Pete is a big fan of the Cubs, and as a transplant to Chicago, I have many things to say on the subject of America's pastime in this city. However, the thing currently on my mind is that they also had a Fukodome table (oh, right, these were the table names, just to let you in on the secret--sorry about that, my brain skips over stuff ALL THE TIME). Anyway, there was an article I think in the Tribune up here about kids getting in trouble for wearing Fukodome jerseys to school, and he was all incensed, like, "My name is not a swear word!" (And that is, as closely as I can recall, a direct quote.)
Here's Kacey and her new niece/older flower girl ...
And here's another new niece and younger flower girl (sister of the older flower girl), eating some lip gloss. And please ... don't even act like you haven't been tempted once or twice.
SHUT UP. This was one of my favorite cakes of the year (although I didn't get to try it, but I bet it was delicious). As I think I've mentioned on numerous occasions, I'm a big Ace of Cakes lover, and I watch a lot of Food Network Challenge. It's funny to me that I watch so much Food Network because I'm not one of those people that just lives and dies for food, you know? I mean, I know those people, and I'm so not one of them. Eating is something that I have to do, and I have simple tastes. So my best guess is that I like it for the artistry more than anything else.
So anyway, this is about the CAKE, remember? The cake? So anyway, the point is that I've seen a lot of the smooth, sleek cakes and fondant and whatnot, but I haven't seen one that's as textured as this one ... maybe ever, and it was so unusual and the effect was just really successful. Now if only I had a giant check for $10,000 to give away ...
... and if only I had a giant check for ME for $10,000 ...
I got lucky once again with a wedding perfectly timed for gorgeous sunlight ... I'm telling you, when it's like that outside these weddings practically do themselves. :)
It's The Look! I'll spare you the dissertation this time, because I know you've all had to suffer through me carrying on about it time and again. And if you haven't heard all about it, well, just look at the picture above. :)
So not only is it completely unfair to have so many good-looking people in one family (this is Kacey's sister), this picture had me downright COVETING her hair and yelling, "NOT FAIR!" in my head. I love the length and fullness and color, but more than anything, my hair would NEVER hold a curl like that, especially such a big, loose, perfect curl. Oh stop! I am mortal sinning with envy over here right now! (But seriously, I'm excited for her that she has such beautiful hair.)
Awww ... I loved this! I love it when people cry at weddings. I mean, obviously I've never had a wedding but I do understand that feeling of having so many emotions that there's nowhere else for them to go, and I TOTALLY think that's how you should feel at your wedding.
Man, the backs of the bridesmaids' dresses were super fabulous too. Kacey and I must have similar aesthetic style. I bet I'd also like her home decor. It's just a feeling I have. And she might like my home decor, if she likes bills and homework all over the coffee table, dog toys on the floor, and a pile of coats in the papasan. I mean, if that's what you're into, boy, have I got the place for you!
This is a fine example of me entertaining myself. Billy and I usually take a few minutes while people are doing the receiving line to switch out cards and whatnot, so I was up around the reception site when I looked out and saw this huge crowd of people waiting to talk to Kacey & Pete, but none of my pics were coming out very interesting. Well, I happened to notice this tree face (because I always think those are hilarious!), so I snapped this one with the crowd a little fuzzy in the background and ended up loving it. I'm a nerd. :)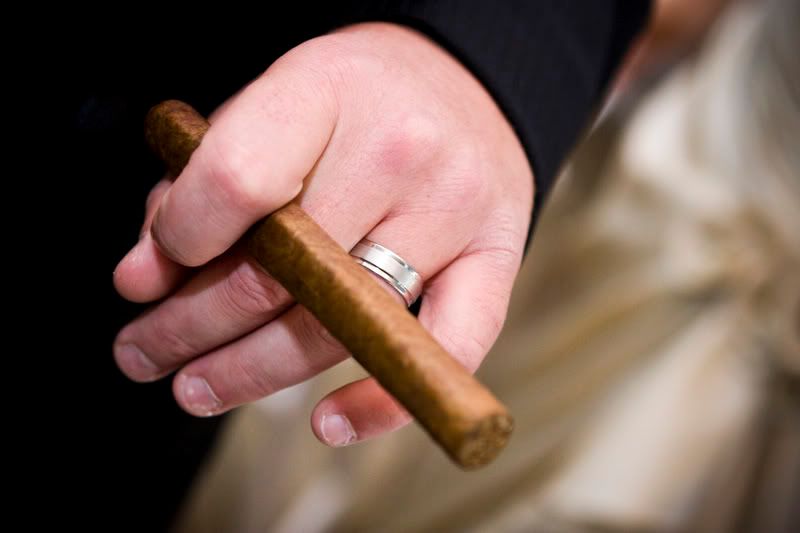 Easily my favorite groom ring shot EVER.
This was a grandmother ... I think she was Pete's but if I have that wrong, I'm sorry! Anyway, I had to include her because I LOVE HER OUTFIT. She looks like a cute and gorgeous Jackie O.
Ha! She's pondering the cake! I thought it was too cute for words. :)
Oh, and speaking of ... this is Kacey's brother, and I remember the day of the wedding Billy commenting that he reminded him of a young Mick Jagger. Totally. And before anyone gets all offended, thinking about old Mick, just stop, stop right there, and look at the hotness of young Mick:
Do you SEE what I MEAN? Young Mick was a stone cold fox. And also, just in case it isn't perfectly obvious, I did not take that picture. I do not have a time machine, nor do I regularly (okay, ever) photograph rockstars. The guy who took it is named David Bailey, and I think I need to look him up when I'm done with this post because he obviously rules.
Kacey and Pete were nice with the cake. :) Also, at their reception, they started it off with a lot of reggae during dinner, and I thought that was fun. It actually reminded me a lot of working at Grand Teton, which I'm sure a lot of you guys reading this remember me doing. Anyway, that was a fun summer and I lived in a dorm, which I never thought I'd get to do again, and there was always someone, at any hour of the day, playing Bob Marley. And since Kacey and Pete met at school in Montana, I'm betting there's something similar in their history. :)
Oh, I am DYING ... yeah, the cuteness just killed me. Do you see the look on his face? He loves her soooo much!
Do you guys ever notice how like about once a post I go into total mushy girl mode? I can't help it, though! It's a real tough job, having to hang out with love all the time. :)
I don't know how much you can tell, if you don't know him, but this is Kacey's dad trying to keep it together, and let me tell you, during the dances with the parents, there was not a dry eye in the house. It was so sweet.
WHAT!!!!! Do you see how awesome I'm getting at catching the bouquet in the air? Seriously, I love how every job that you have makes you develop weird/special little talents. For example, did you guys know that when I waited tables (at Texas Roadhouse in Muncie, all through college for anyone who missed that), I could pick up a stack of ones and tell you how many were there just by weight and thickness? And I was like, SHOCKINGLY accurate, within a few dollars each time (like five or less). Man, that was awesome--I should've taken it on Letterman while I still had it. And as a Ball State grad, I surely would've had an in, right?
OMG, how cute was this removing of the garter? I loved the cute and coquettish way that she's holding out her leg. (And yes, "coquettish" truly was the only word that would do.)