Awww, you guys ... get ready for some SERIOUS cuteness. Carson just turned one and he needed some pictures to commemorate the event with Mommy and Daddy. And he's just SUCH a doll. You're going to love him, so I won't keep you waiting. :)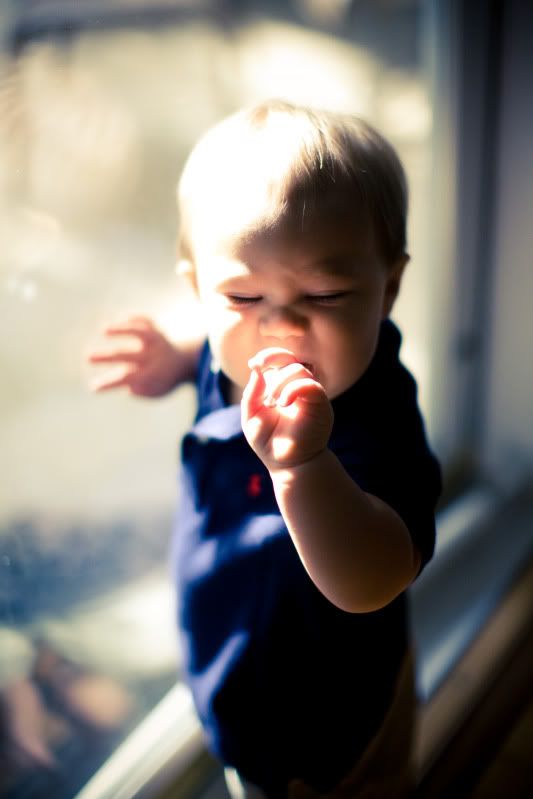 It took Carson a little while to get used to me and I think that here, he might have been plotting his escape through the glass door. But I love how the sun lights up his little hand, and it reminded me that his dad kept commenting that he was doing the Austin Powers/Dr. Evil finger to the mouth. It was really funny. :)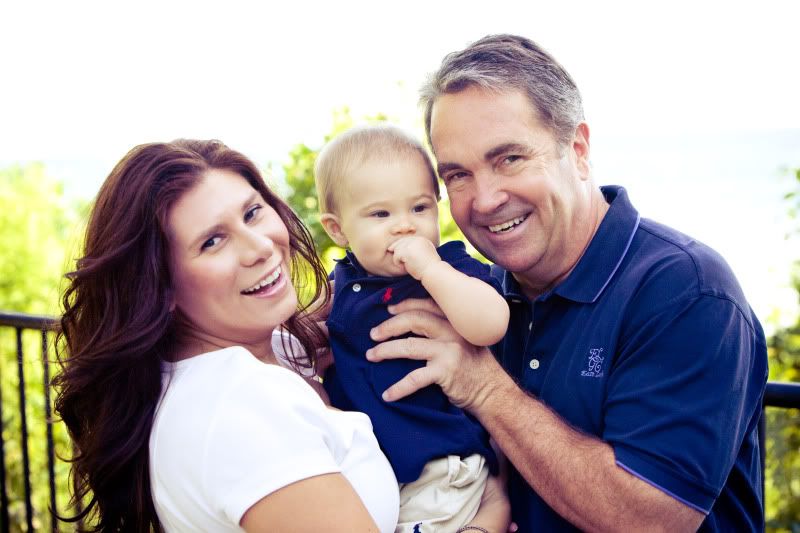 And here is the beautiful family, and that's no exaggeration. They were SO sweet, and they have the cutest little boy, and a lovely home, and they're warm and fun and you can tell there's just so much love there. And now that I've said all of that really sweet and sincere stuff, I can also say ... I'm TOTALLY jealous of Angela's hair. OMG, it's gorgeous. How does she make it look so beautiful while chasing a one-year-old around? I'm SO impressed. :)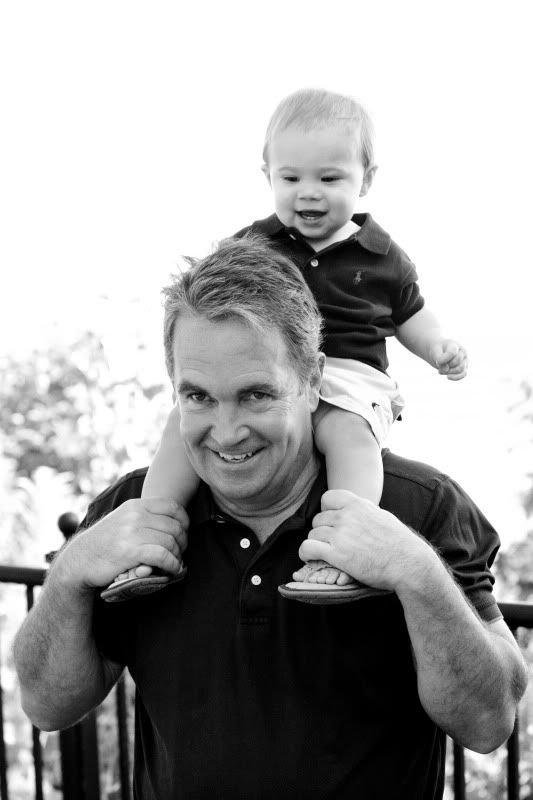 Awwww, I love this, probably because one of the things I remember best about my own childhood is that my dad would carry us to bed on his shoulders every night. My dad is a tall dude (about 6'2"), and we didn't have super high ceilings, so I must have been pretty little but it had to have been seriously awesome for me to still remember it so vividly. And hopefully Carson will have those memories too!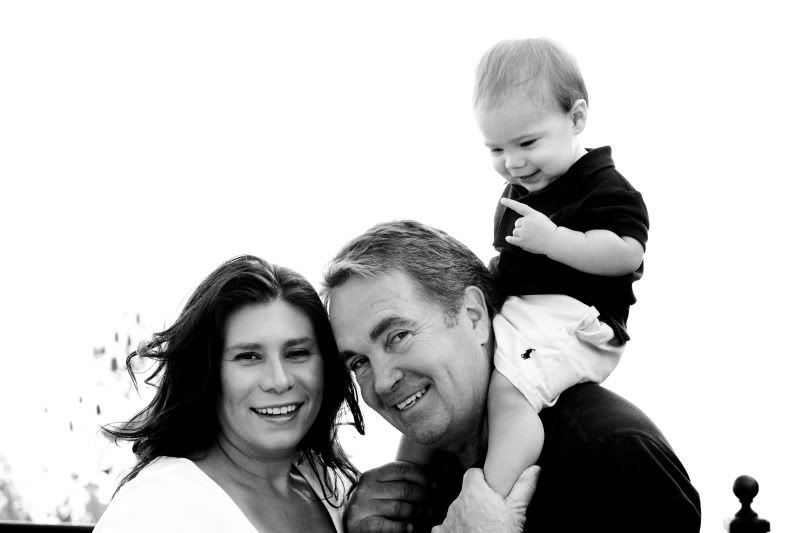 Awwww, aren't they all CUTE? And Carson looks like he's got the beginnings of a "rock out!" hand going on!


Mommy was SUPER good at getting Carson to laugh and be happy, and one of his favorite things was being held up in the air (and the other one being spun around). It was so cute to watch them play together. :)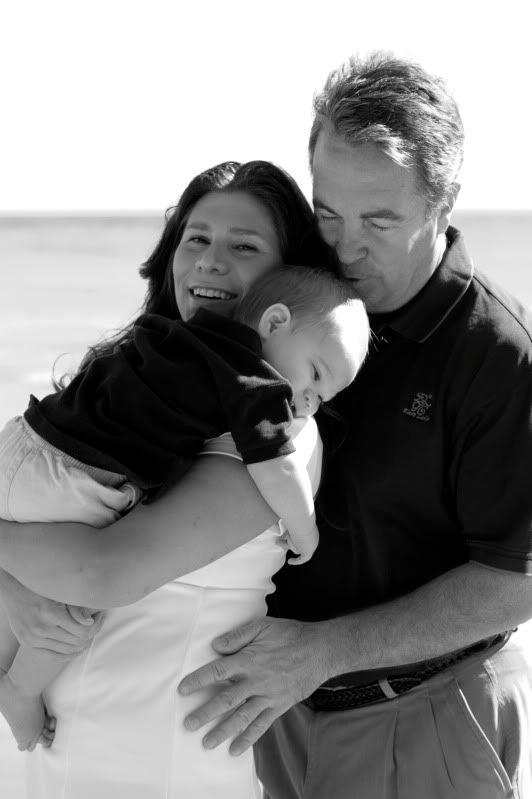 Having a little rest on Mommy's shoulder ... seriously, are they not THE CUTEST? I just loved how much of the affection came through the pictures.

And another in color. Again, I've said it before, I LOVE having water nearby. I never really realized how much it adds to your life (and pictures).




Oh, this. THIS! This is an interlude to show you what the beach looked like where we were in Winnetka. GORGEOUS. I mean, it really and truly looked like this--no crazy Photoshop on my part, just sparkly blue water and a gorgeous little row of clouds. And it was completely quiet (although the bacteria levels that day might have contributed, although that would sort of ruin the illusion). :)

Loved this too--father and son, a beautiful day, coordinating shirts ... what's NOT to love?

And for the big finish, we put him on the swings! Which, obviously, he loved, and my favorite thing about this picture is that if you look to the left, you'll see just a little bit of Gene's face and see that that big huge smile is all for Daddy!

So cute! (I am such a broken record, but it doesn't stop it from being repeatedly true!) And look at those little teeth!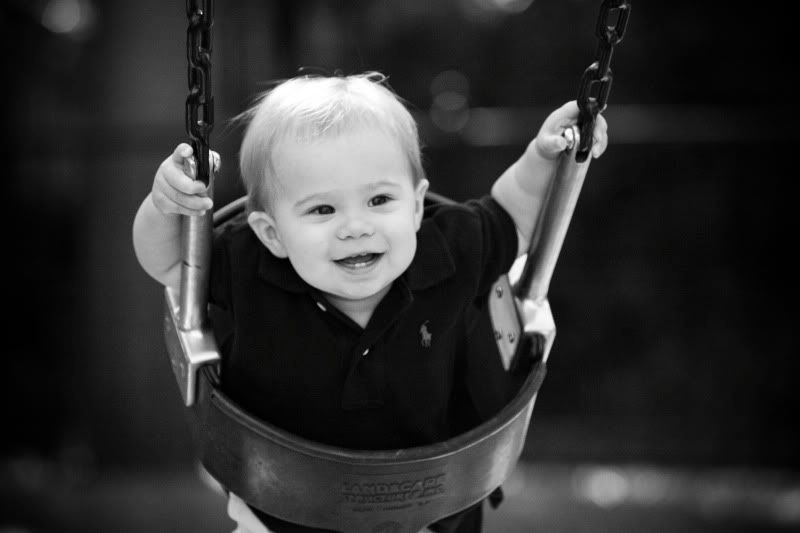 LOVE. He is SUCH a doll, and so happy. And I think he finally started to forget that I was there, which is always the goal when you're the photographer--you want people to look as natural and happy as if there WASN'T a huge lens pointed at their face. :)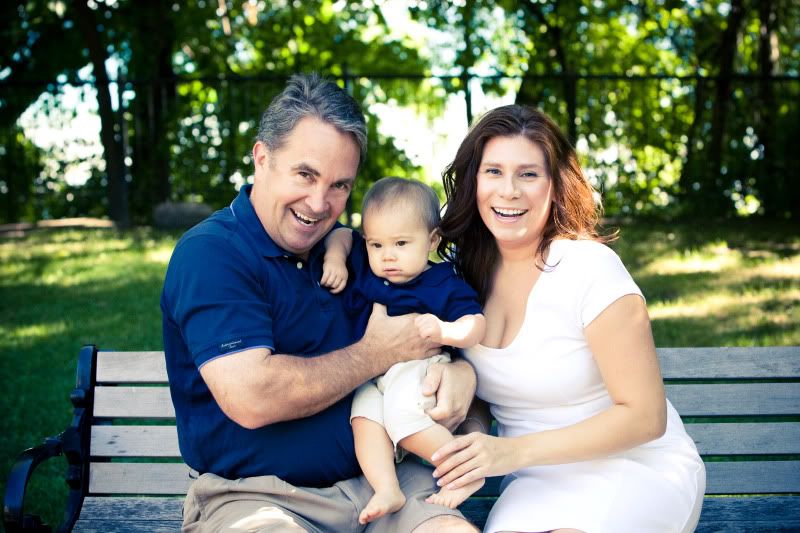 And one last little shot of the happy fam all together at the park!


Seriously, this was such a nice way to spend a Saturday morning--like I said, they were really a great family to be around and it was a beautiful day, and I loved getting to capture how they interact. This was SUCH a quick shoot, probably only about an hour (because, let's face it, one-year-olds have better things to do, like play and eat and nap ... I wish I was a one-year-old!), but I was really proud of all the great shots we got, which is totally a testament to my wonderful subjects. Carson was so happy and obviously well-loved, and Gene and Angela were so welcoming and accommodating and sweet, and I know they'll have so many more happy years ahead of them!
Thank you so much for inviting me into your home and your lives for the morning! I hope you enjoy the pictures as much as I enjoyed taking them! :)