Yay
! The event we've all been waiting for! I was excited from the get-go to shoot Mindy & Chris's wedding at Fountain Square Theater, because it was close to my house (before I moved, obviously), and I love Fountain Square in general, and I knew it was going to be a neat venue. As it turned out, it was also the hottest wedding in town ... LITERALLY. I mean, don't get me wrong, the
FST
made up for it in awesomeness, but it was sweltering in there, and that was with the AC going full blast. Sometimes these things happen with old buildings, you know? I really would have put it at 120 degrees, but Billy said it was probably more like 100 because if it was 120, old people would be dropping dead. And that did NOT happen, thank God. Also, if there are any old people reading this, sorry if you feel that was stereotyping you but I just really want to say how glad I am that you're still with us. :)
Anyway, all that to say that it was also one of the figuratively hottest weddings ever! I loved this one and loved the two shades of bridesmaid dresses, Mindy and Chris's AMAZING families (they were SO fun), and all the charm of the Fountain Square Theater. It was a good time. :)
I will never get sick of the shots of brides diving headfirst through their dresses, and the triumphant follow up when they make it out with hair and makeup in tact.
One of the things that I've really learned from doing so many weddings is that bridesmaids have a lot of jobs, but one of the most important ones is fussing over the bride, especially when she first gets dressed. I also never get sick of friends gathering around and admiring the bride and fluffing the dress. :)
OMG
, she was SUCH a pretty bride.
It wouldn't be a Sarah Brown Downtown blog post without some sort of silhouette, now would it? Ha! But I liked this one of the bridesmaids heading down the stairs, this one holding her shoes.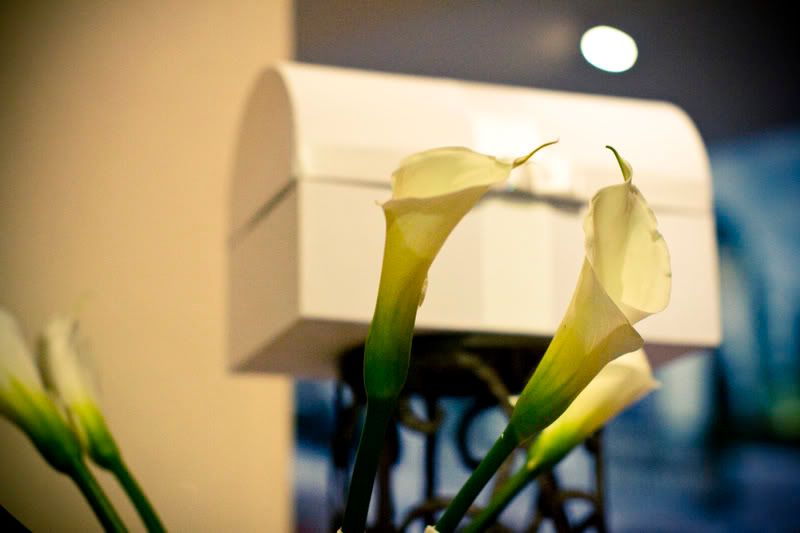 The bridesmaids each carried one lily, which I thought looked really classy and pretty, and I loved the card box behind these. This wedding really had a lot of nice little details, which are always fun to photograph.
Like I said, it was hot! The groomsmen were keeping it cool and giving their jackets a little break before picture time.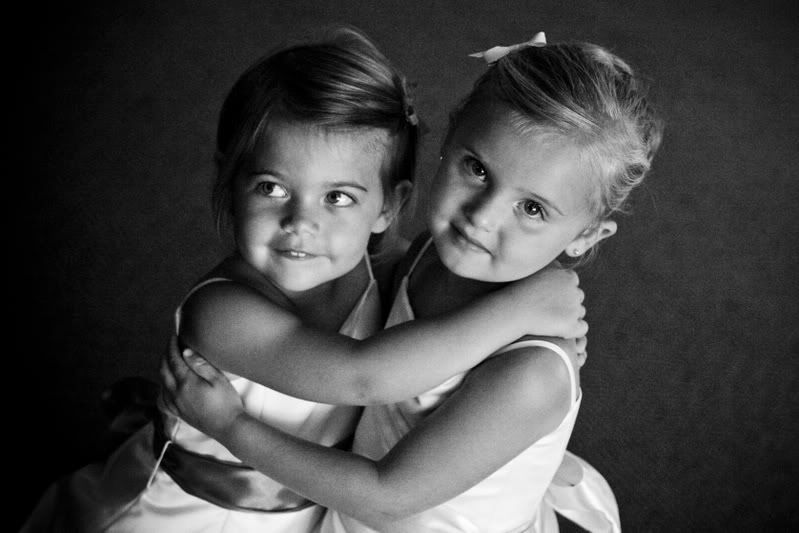 The flower girls being ADORABLE!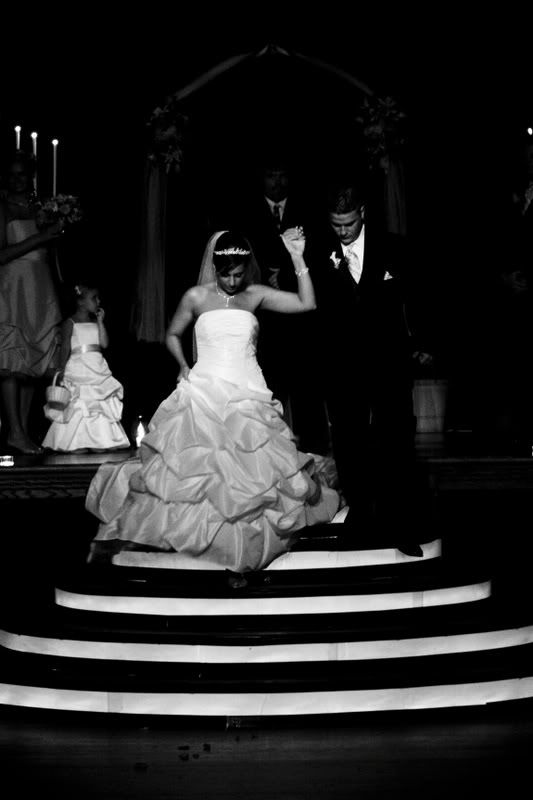 Don't you just LOVE this? I thought those steps were one of the best features of the theater. This looks like a
badass
30's movie to me.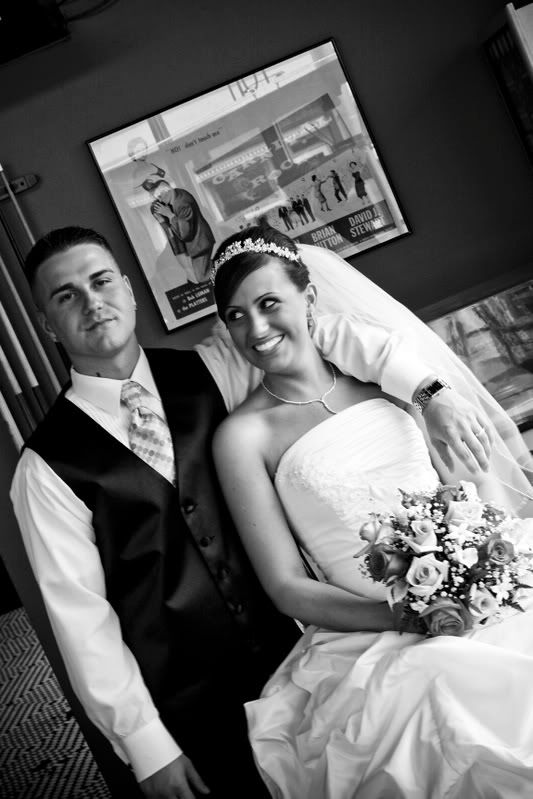 Before the reception started, we took Mindy and Chris around for some pictures of just the two of them, and an obvious choice was the Fountain Square Diner, which I absolutely love. Also, as a
sidenote
, the cheese sauce there is to DIE for. It's like the kind you get from a concession stand, which may not sound that exciting until you realize how hard it is to come by in real life. And I should know--I am a nacho cheese
CONNOISSEUR
. Billy knew how much I love cheese sauce by the end of our FIRST DATE, people. It was so serious. We went out the next weekend and ended up at Steak 'n' Shake where I got some cheese to dip my fries in, and he told me that the first week is the nacho cheese anniversary, which I thought was hilarious and totally endeared him to me.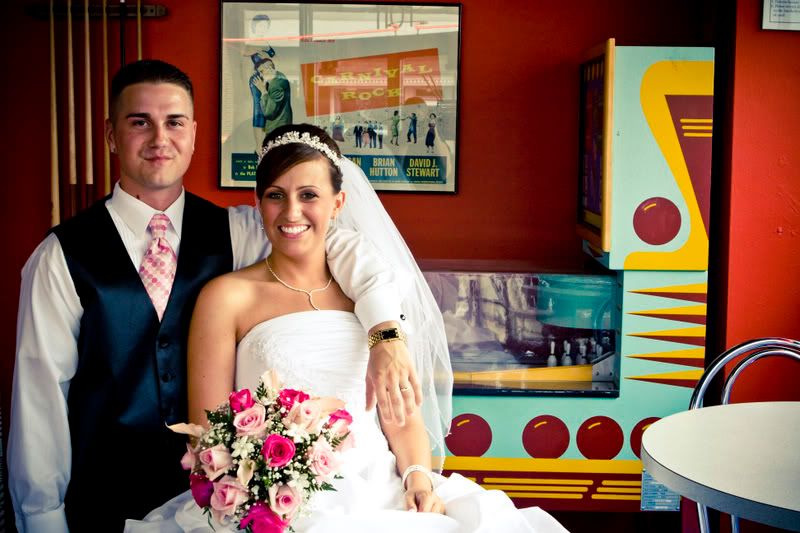 I LOVE the retro decor in there. I also love how when you take brides (and grooms, of course) to a public place, they get oohed and aahed and cheered. It's so fun and awesome and it's really like once in a lifetime. Although, I've gotta say I think the world might be a little bit better place if more often, someone walked into a room and the whole place cheered for no real reason. I mean, wouldn't that make you feel good?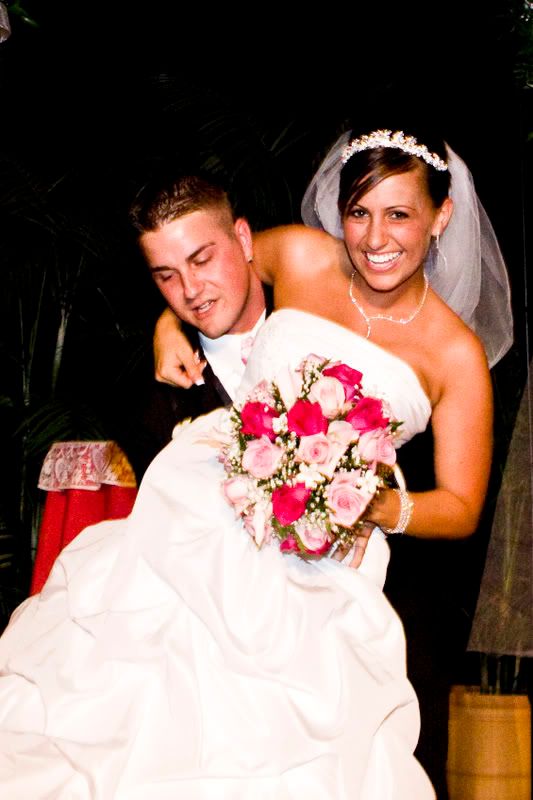 I don't know if you guys remember Chris being a little camera shy during his engagement session, but he was a LITTLE nervous about the whole thing. But for the wedding, as Billy pointed out, he was like a different dude! He was hamming it up, requesting pictures of just him and Mindy, looking happy and comfortable ... he did GREAT, and he looks so handsome in all his pics! I was so proud. I mean, you could say that maybe he was just so happy to be marrying beautiful Mindy that he didn't have time to worry about having his picture taken, or that the bubbly champagne helped, or whatever, but if you ask me, it was because he saw how hot the engagement pics turned out and knew he had nothing to worry about! I would say that's my story and I'm stickin' to it, except that it reminds me of that country song that I never really was a fan of, so I'll just skip that.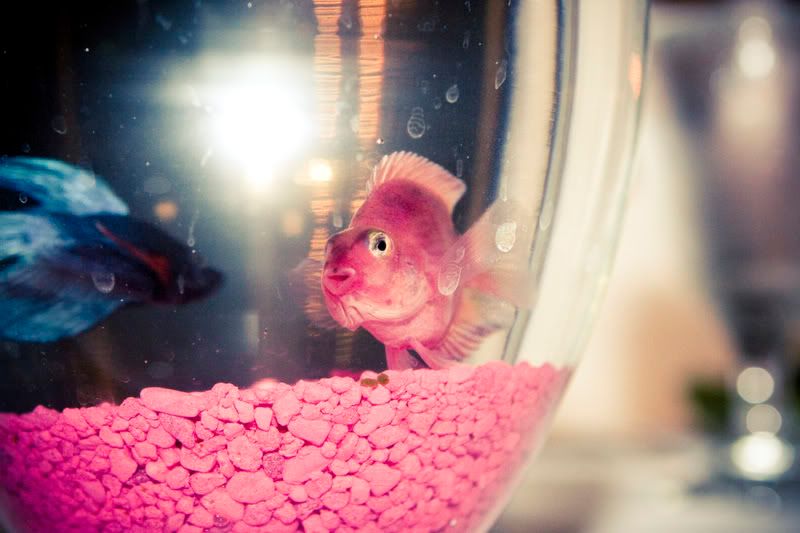 Oh man! These fish crack me up! But okay, first of all, I love the pink fish. I think they're so fabulously gorgeous. Secondly, there were maybe only four or five of these centerpieces and I think they all went on the head table. But anyway, if you see the beta in there ... yeah, those like to fight, and I for sure before the reception started saw at least one pink "floater" fish, if you know what I mean. There were a few still swimming when I left, so I don't know, maybe they got more merciful betas.
Meanwhile, this is not the only beta fish wedding story of the year. Billy and I were at our friends Brian & Dawn Marie's wedding, and they had a few beta centerpieces. Our table had one, and these were in bowls by themselves. But the bowls were pretty shallow, and our fish was FREAKING the eff OUT. So I'm like all concerned for the well-being of this fish, like ... does it not have enough water, is it having a seizure, WHAT THE HECK? Well, finally I realized that the caterer had set the bowls on mirrors and the beta had seen itself and was trying to fight the "other" fish. I picked him up and put a napkin between him and his nemesis and all was well again. But I developed like a SERIOUS bond with this fish, because hello, I just saved his life!
The only thing was, the guests were supposed to take the fish home and I loved this fish but I didn't really want one because I hate having to care for fish. They just smell ... fishy. But I wanted to make sure he had a secure future. I'm pretty sure their friend Johnny ended up taking him home, but at least I know that DM is a serious animal lover, so I'm sure it's having a happy life SOMEWHERE. Somewhere hopefully not on top of a mirror.
Chris and the flower girls, which I just thought was BEYOND cute.
On their way to being announced! The bridal party waited it out for a little bit in the duckpin bowling alley, which is so completely cute and which, if you are ever bored in Indianapolis, I TOTALLY recommend checking out. They didn't actually bowl though, because they had more pressing things to do like, oh, I don't know ... THEIR WEDDING.
The cake! Soak up its prettiness now, because the next picture is ...
SMASHING! Seriously, it happened this fast. Look at how Chris and Mindy are a blur while EVERYTHING ELSE is in focus. (Seriously, I am all about the caps today.) And look at the look of pure joy on that boy's face! Downright devilish!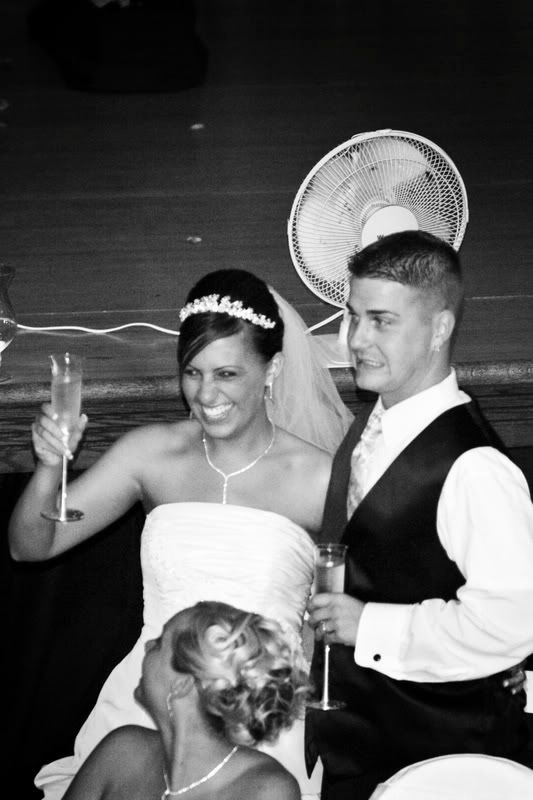 Ha! Don't you just wish you knew what was being said there?
Awww, and I love the fan in the background! It really came to the rescue. :)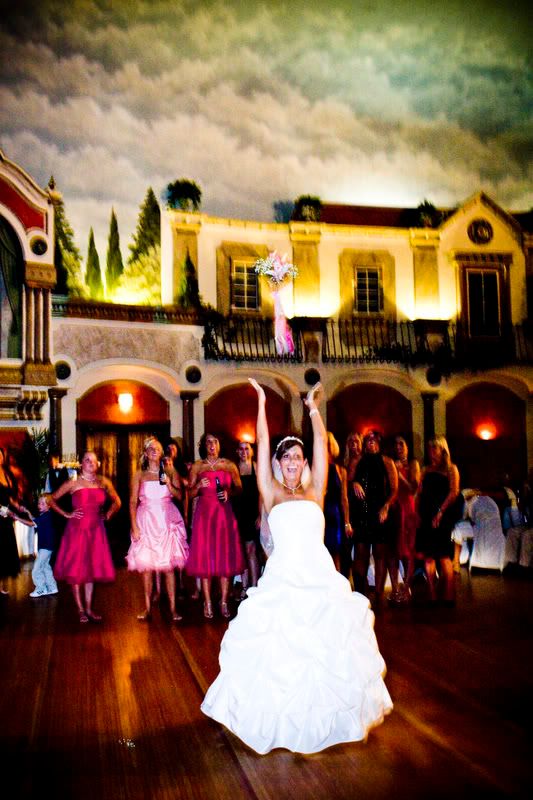 Bouquet in the air! That's always such a feat and I was so proud of myself. :)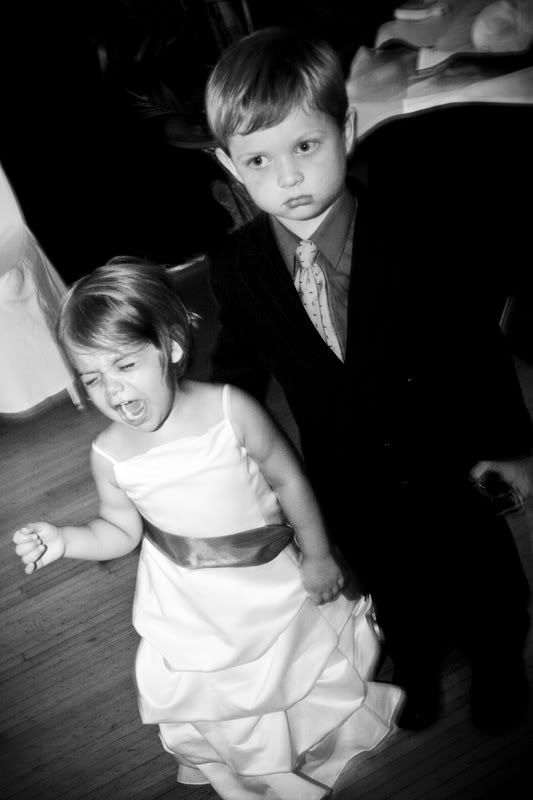 Oh oh oh! This picture cracked me up so much, and yes, I know it was of a kid crying, and no, I don't want kids to be upset or cry, but come on ... the look on that little boy's face is PRICELESS, and I just want to tell him how many more times in his life he's going to be standing there with a hysterical girl and not having a clue what is going on.
And poor Kendall, she was a trooper for most of the night, but she was SO sick of having her picture taken that by the end of the night, she would see me coming and just start crying. And it's just like ... I know, girl, and I wonder how many adults have that feeling on the inside when they see me headed toward them. :)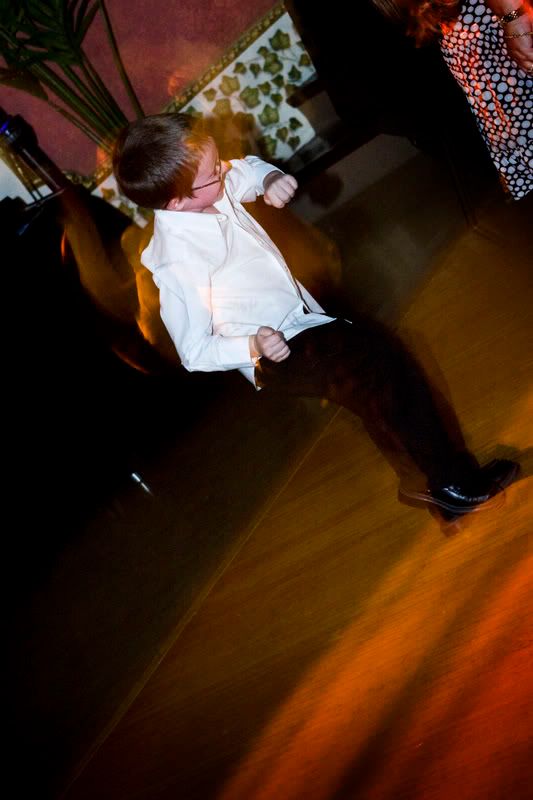 This kid made my LIFE! Look at all the trails of his arms and legs going as he absolutely BUSTED a move! He is a future heartbreaker in the making. You know how girls love a guy who can dance!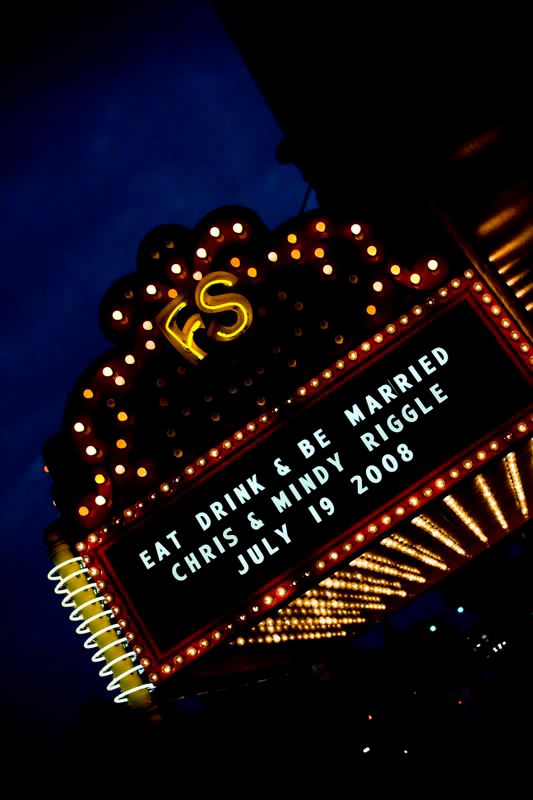 Me and Billy were packed up and out the door but the view of the sign all lit up against the night sky was too much, so I stopped and busted my camera out of the bag one more time, and it was so worth it. The sign is easily one of the highlights of the theater. :)
If you want to look at all of Mindy & Chris's pictures, go check out the gallery at
http://sarahbrownphotography.instaproofs.com
. As always, online ordering is available!
Alright, stick with me, folks! There's more coming soon!