Oh, man. It is the event we have all been waiting for! Lacey and Branson's super fun awesome Muncie wedding! Also, just to warn you, this is my longest wedding post of all time. This is because Lacey and Branson booked my package with the most hours, and so I must reward them! (Plus, I had a zillion favorites and you KNOW how I am about deciding.)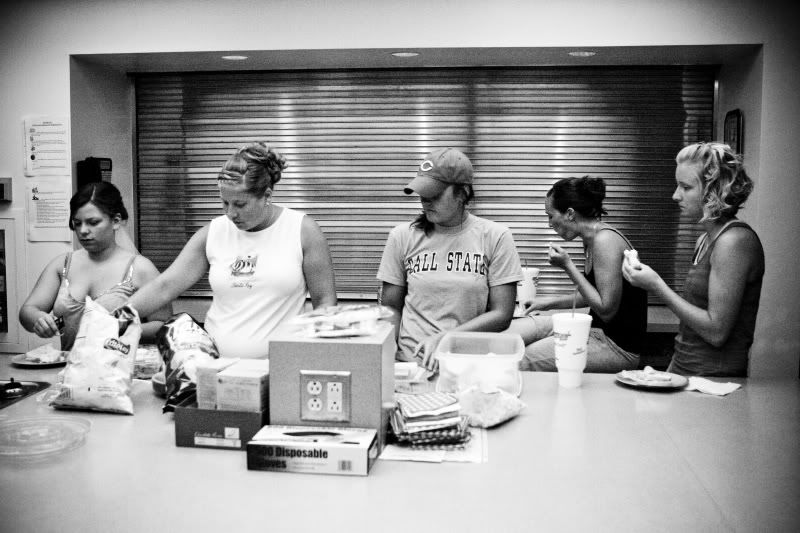 Sandwiches! And don't you love the Ball State t-shirt? Yeah, shout out to my alma mater!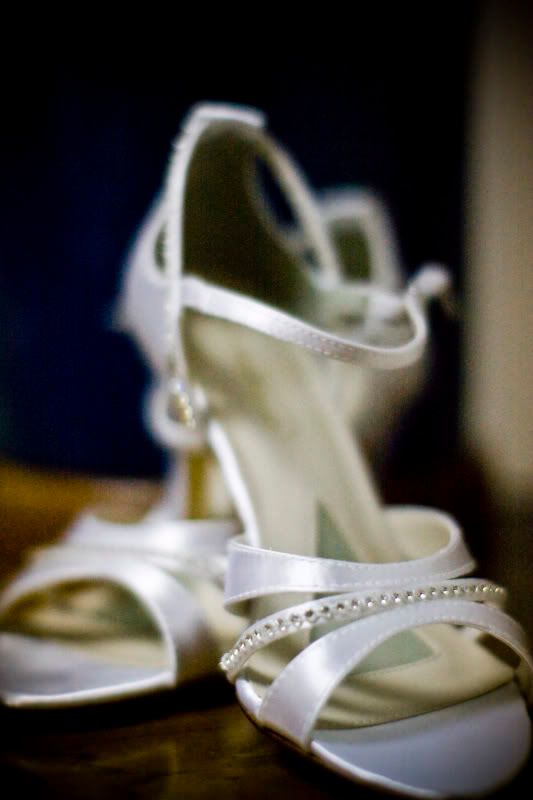 Only my favorite shoe picture of all time!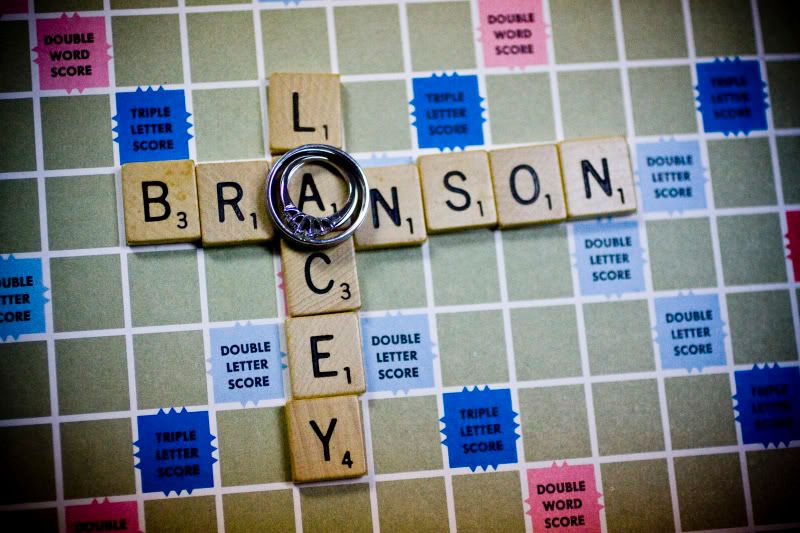 Lacey left plenty of time to do everything, which was awesome because it made plenty of time to do things like have sandwiches (girls, if you're in the planning phases now, bring food on the day of--you'll be so glad you did) and play Scrabble. And Scrabble led to awesome ring shots!
Two things about this picture: #1. I am INCREDIBLE at Scrabble. And #2. Look at the size of Branson's ring! He has some seriously huge hands!
You know how I love the "fussing over the bride" shots! And by the way, these were the best bridesmaids ever, and I am seriously hoping that every single one of them calls me to do their weddings because they were so fun and funny and I wished I lived closer so they could be my friends in real life, and not just wedding life. Although Lacey (the bride) and Shannon (Branson's sister) are my Facebook friends now, so I'm at least halfway there!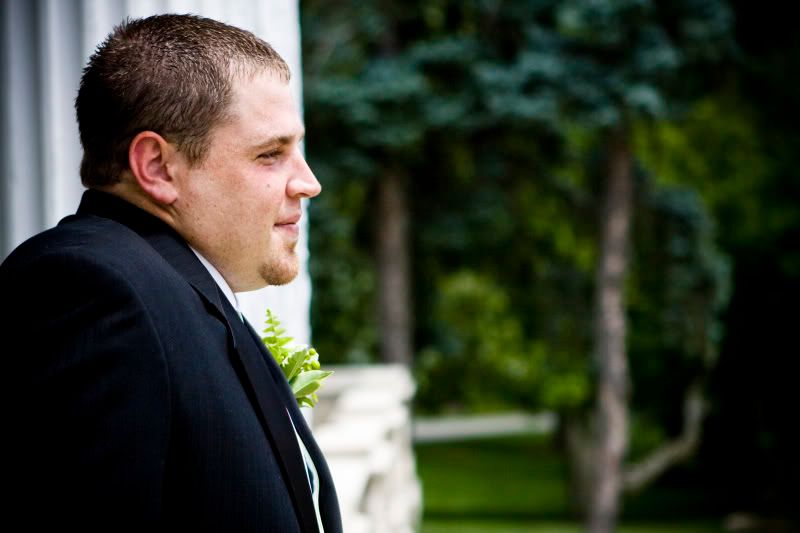 Lacey and Branson opted to see each other before the wedding, which was wonderful because I got to be right up on him while he watched her approach, and I loved how the pictures turned out. AND, fun fact, Lacey and Branson got married at Hazelwood Christian Church, which sits right on the dead end of the last street I lived on in college! I used to walk down to this very same area and chat on my cell phone, and I always loved how pretty it was. I loved being back!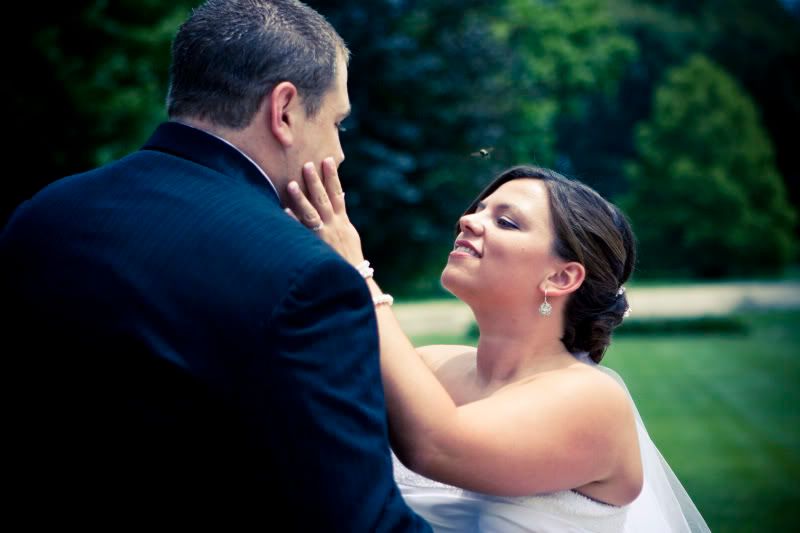 Awww, THE LOVE! These two kill me. And also, look at that huge bee buzzing around Lacey's head!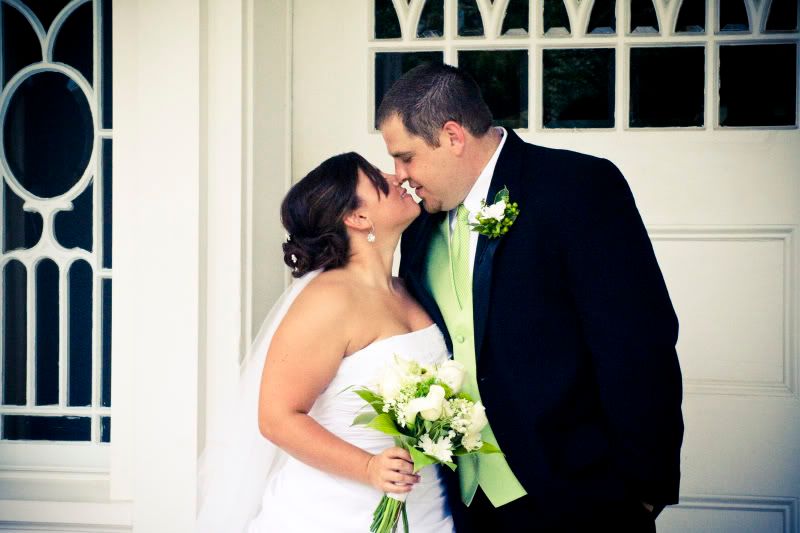 One of Billy's! I don't know ANYONE who doesn't love The Almost Kiss. Seriously, The Almost Kiss is the definition of hotness.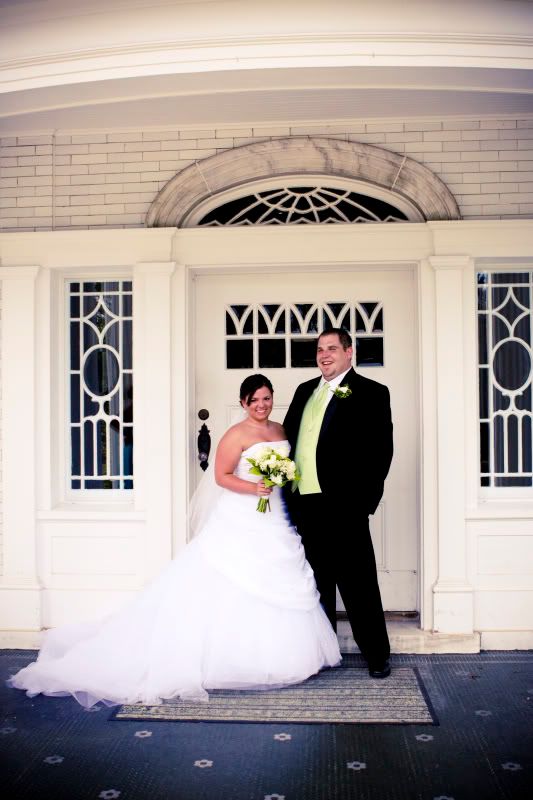 These two were this happy all day long, which was perfect. Every now and then you have couples that you can picture being young and happy and wild, but then you can also picture them at like every stage of the game, right on up to old and wrinkly and still participating in shenanigans. And I love that.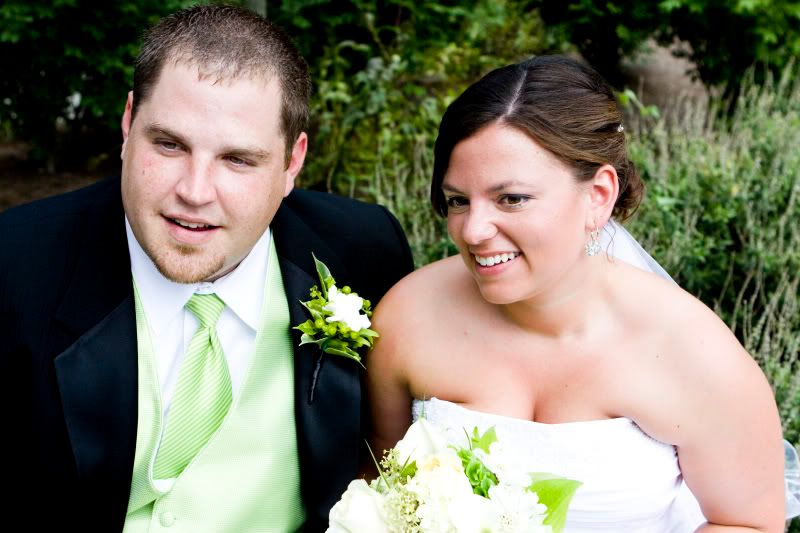 OMG, Branson's eyes are just like ... SWOON, and I'm not even in love with him. (Sorry, Branson, I really like you a lot, though. But just as friends. I hope you can deal with that.) But Lacey must die EVERY DAY over those pretty eyes. Am I right? Although hers are big and brown and magical too, so maybe they're both so used to seeing gorgeous eyes in the mirror that they're immune and manage to get stuff done during the day instead of just sitting there staring at each other's eyes, which is probably what I would do in their situation.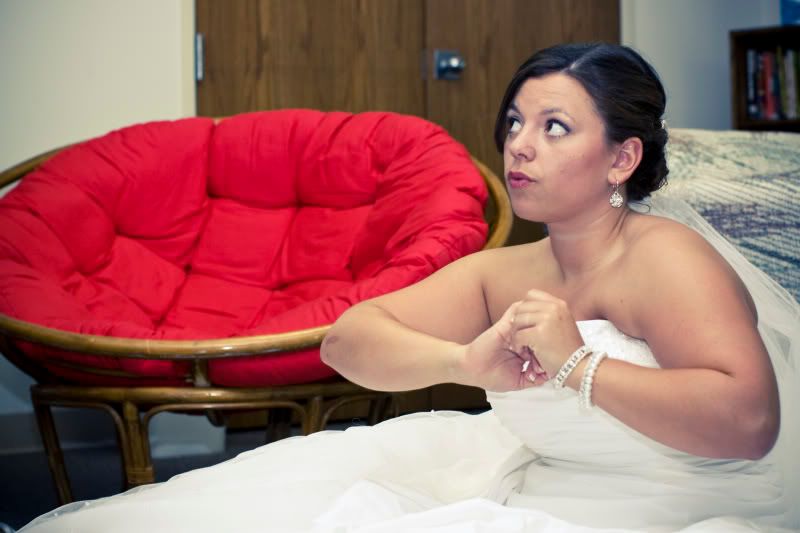 I LOVED her sitting on the ground with the wedding dress all around! We were playing hangman at this point, which was way fun, but what comes to mind right now is that I actually have a picture of Lacey sitting there bent far enough over to be grabbing her toes. What?!?! Of course, I'm the least flexible person in the history of ever, and I was an epic failure at the sit and reach in the Presidential Fitness Challenge, so maybe I'm just easy to impress in that arena.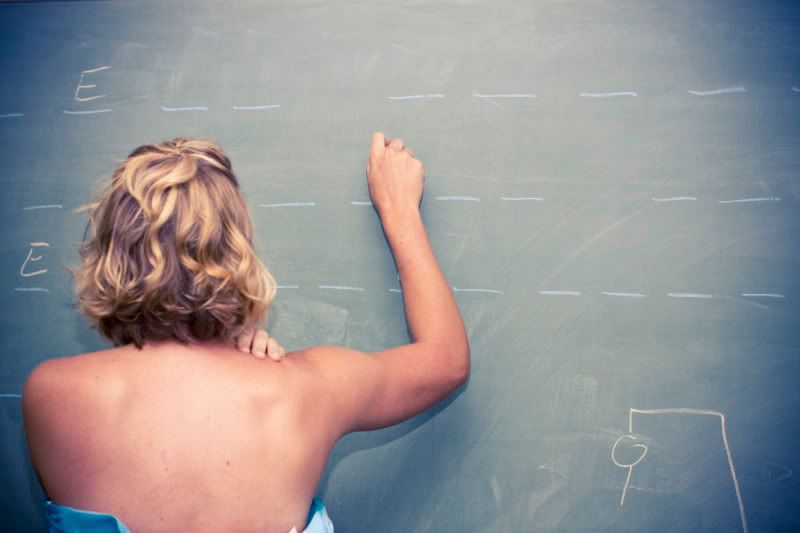 And here is the hangman, in case you didn't believe me.
But seriously, I also really want Rachel to be my friend. She was hilarious and kind of inappropriate, which I live for.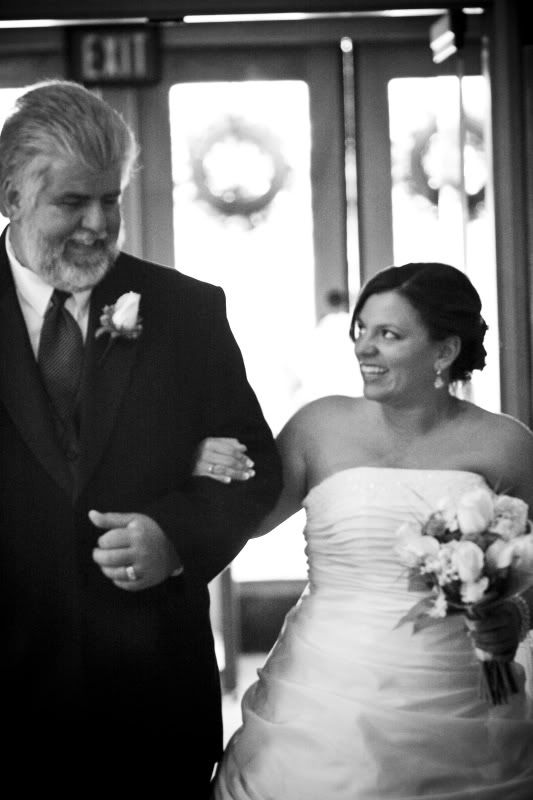 And see? It wasn't just Lacey and Branson. EVERYONE was happy for them, all day. It was really special.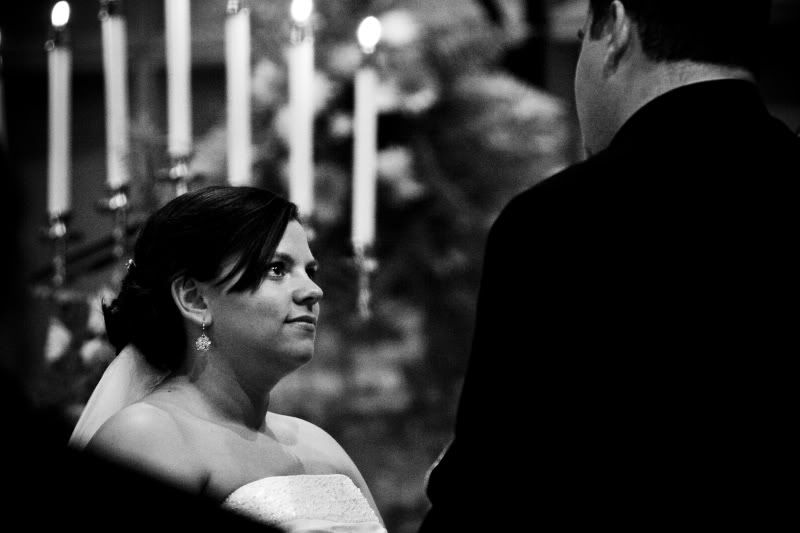 This was during the ceremony, and do you guys remember my whole dissertation about The Look? Well, once again, this is it. Lacey and Branson wrote the book on The Look--they were giving it to each other all day and all night.
The Look. AGAIN! I am dying. I am such a sucker for The Look.
Okay, I was on a mission all day long to get the best photographic representation of Branson's laugh, and I think this may be it. Do you remember in High Fidelity when John Cusack says Laura has "the best all-time laugh in the history of all-time laughs"? Yeah, that's what Branson's laugh makes me think of. He kind of throws his head back and almost sort of bends his torso backward. It's just a really good (and thorough) laugh, and I think laughs are a really important part of what makes me like someone.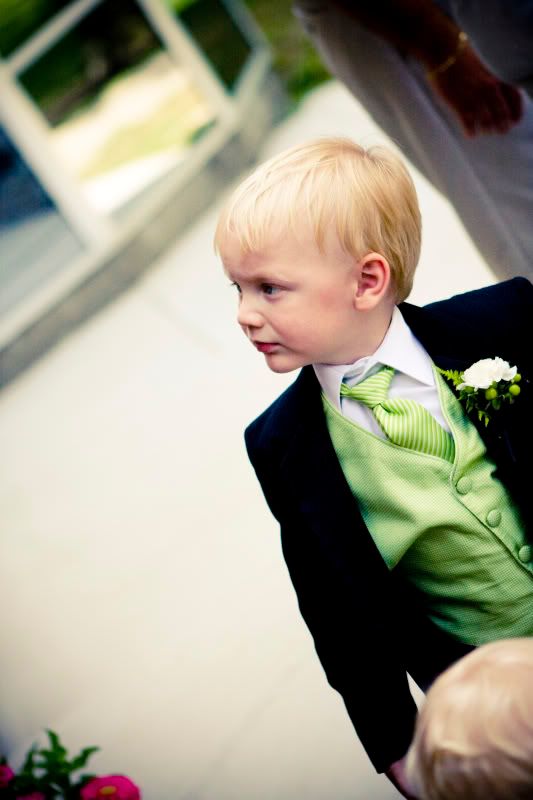 This child looks like a little porcelain doll with perfect pink lips. And I've been saying it all year but I'll say it again--we've gotten INCREDIBLY lucky with having great kids all year long.
The flowers at this wedding were totally important, even moreso than at all weddings. Lacey and Branson met while they were working at his family's nursery (greenhouse? I'm not down with the lingo I don't think) and his aunt did all the flowers. These wreaths were amazing, and they were a total surprise, because as she told Lacey, all brides deserve surprises on their weddings. She took the flowers for the wreaths from various meaningful places and people and put them all together, and they were so beautiful and special. And I just love how close to their families these two obviously are, and everyone deserves to have so many people who love them so much.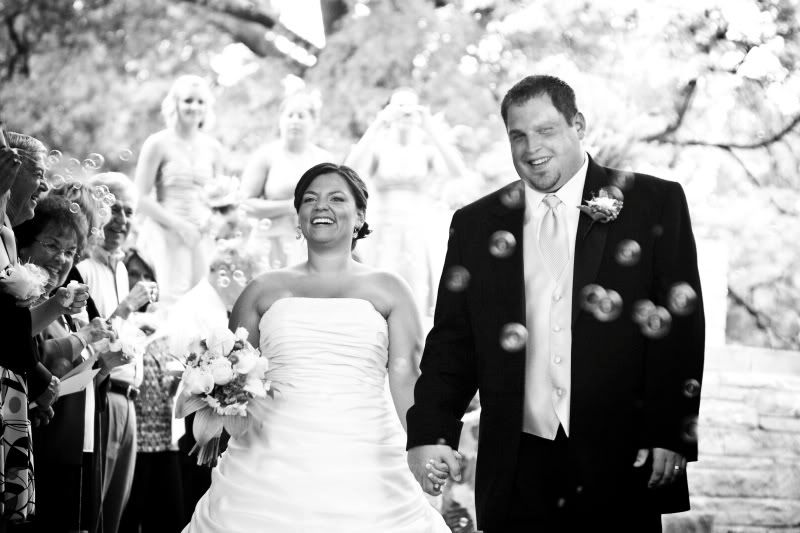 Billy took this one too! I loved the bubble exit and he got such a good shot of the joy on their faces.
Just stop right now and make this a full spread in a magazine. It deserves to be seen by all. (And before you think I'm completely insufferable and arrogant, this also was a Billy shot! He has really stepped up the awesomeness BIG TIME.)
Their toasts were so funny, and that reminds me ... I was doing a crossword puzzle today and one of the clues was "a wedding reception tradition" and I had O-A-S-T-S filled out, and the first thing that came to mind? No, not "toasts", which was the actual answer. I actually first leapt to "roasts", so what does that say about the weddings I've done this year?
It says they've been awesome, that's what!
Oh, EASILY one of my favorite first dance pictures ever. Totally going on the website.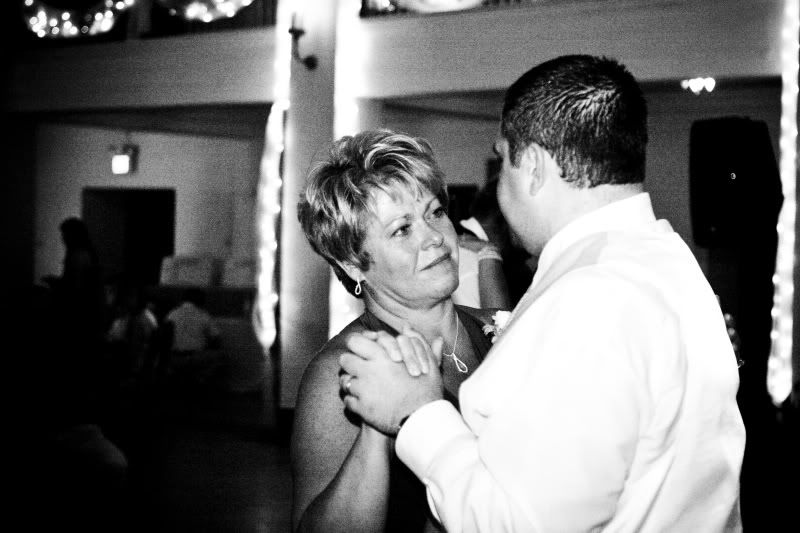 Branson and his mom! And can't you see where the pretty eyes come from? Seriously, you guys, the moms at this one were KNOCKOUTS.
Ha! I can't remember this guy's name but I loved him, and he made an impression for two reasons. #1. (What is up with me and the numbering right now?) He was carrying around a pitcher as his cup, and #2, he took his camera and pointed it straight at me so it would flash at me from the wedding party table, and then yelled, "YEAH? How do YOU like it?" It was one of my favorite wedding reception moments thus far!
More dancing. I am a total sucker for the Cinderellaness of this picture.
This one really just spoke to me.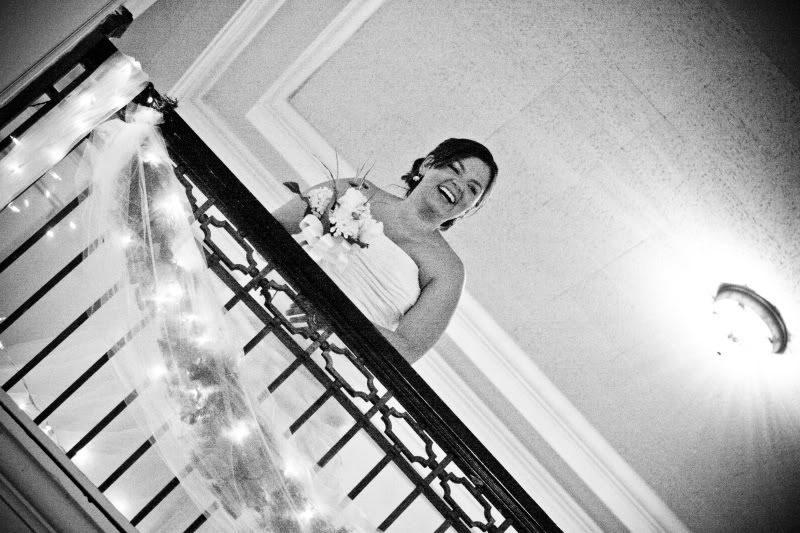 BALCONY! Balconies anywhere are awesome, and I think we can all agree that throwing things off balconies is awesome, so clearly there was no other choice for the bouquet toss.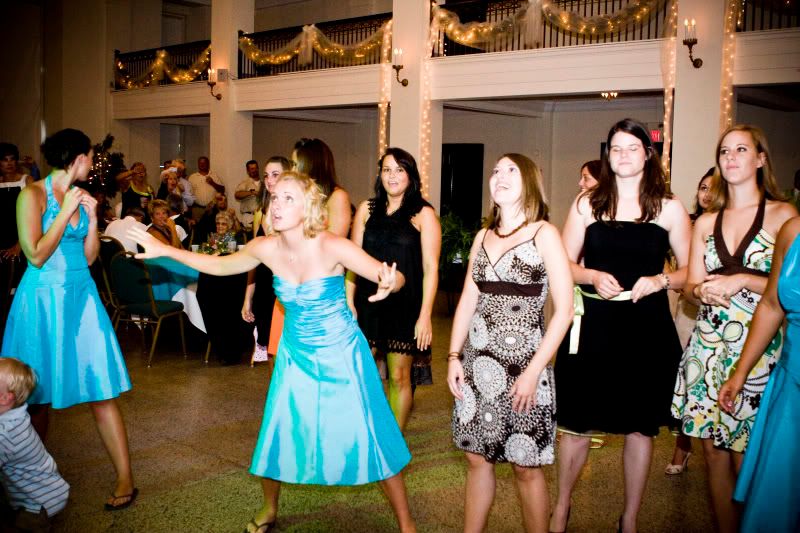 This was possibly the best bouquet toss I've ever seen. It started with the maid of honor blocking out the other single ladies, and ended with out-and-out carnage. I mean, we had people on the floor and sad little decapitated flower heads ... it was GLORIOUS.
And as if this wasn't enough, we finish it all off with a picture of the other bridesmaids laughing and pointing at the one on the floor. I think that's how you separate your friends from your acquaintances--acquaintances will worry and help you up and try to make you feel less embarassed, but your friends will really appreciate the hilarity of the moment and make sure you get a laugh too, and for me, the pointing makes it. I can't look at this picture without thoroughly cracking up, and that's impressive in a pile of pictures that I chuckled my way through. Best bouquet toss in the history of ever.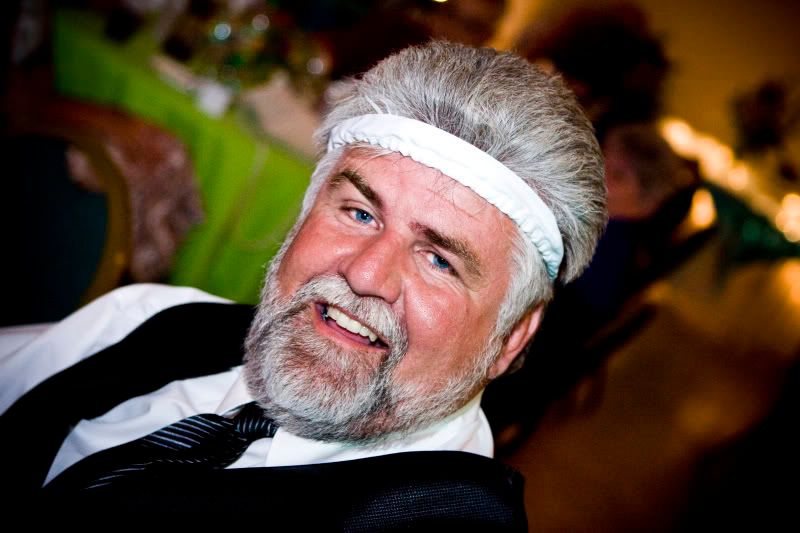 Well, the garter toss was less violent, but it did end up with this so I'm going to call it a tie. (And again with the pretty eyes! Where do these people find each other??? There must be a secret society!)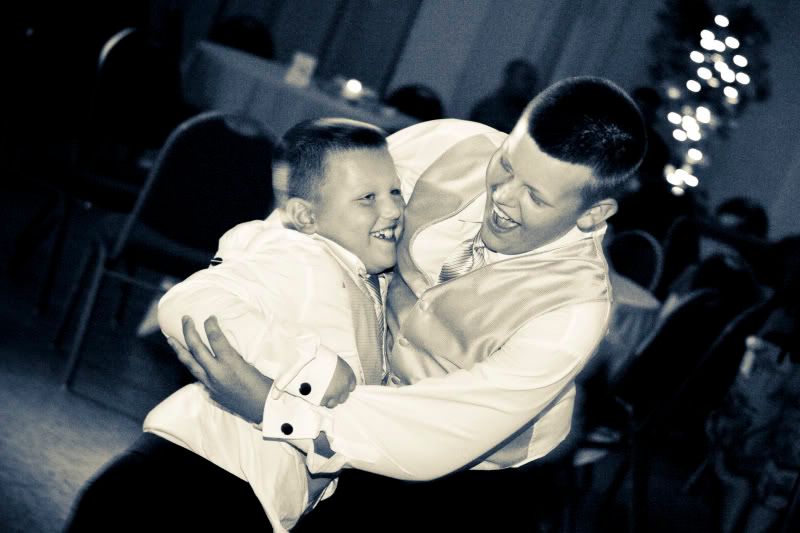 Now, I obviously am not a boy and though I have a brother, I have never been one, but this picture says it all about brothers for me.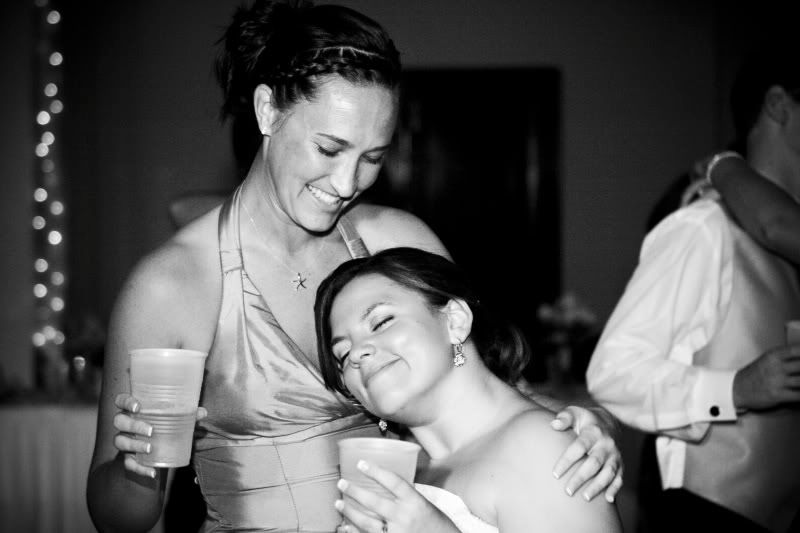 Something I've realized is that the longer you're at a reception, the more entertaining it gets. Coincidence?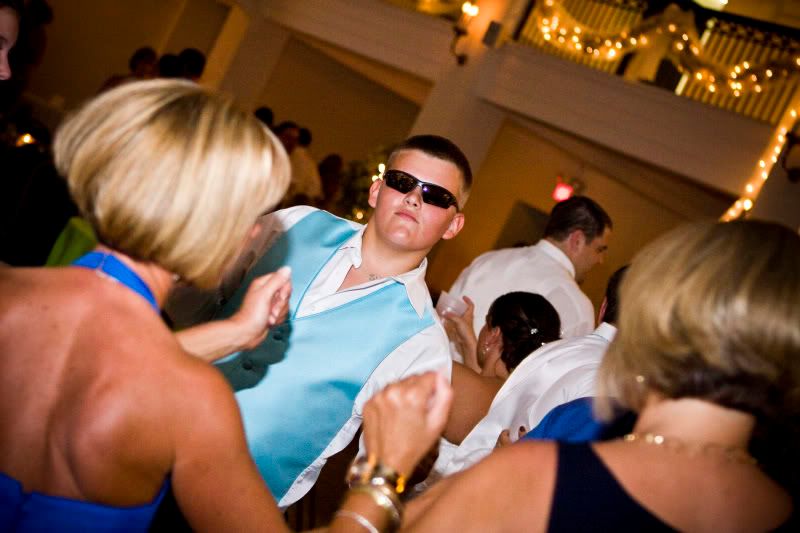 Dude, this kid was so cool. I mean ... watch out ladies, because he can rock a pair of sunglasses like none other. (Also, he was the one who tipped me off to the garter on the head pic, so I owe him some props there too.)
What we need to focus on here is the three people on the left side. (The one in the v-neck is Lacey's hot mom.) These guys were out there getting down and putting the kids to shame, most especially when there was some Bruce Springsteen (which, obviously--he's The Boss, and how excited are you that he's performing at the Super Bowl?) and even more when Maggie May came on. And I was excited about this, because Maggie May is one of my all-time faves. I didn't really even know I could like Rod Stewart until I heard Maggie May, and then it opened up a whole new world. (Although, let's face it, I don't think Rod ever really topped Maggie May.)
I absolutely went out of my way to put plenty of pictures in the set for Lacey to use as blackmail, and Rachel was most assuredly a major victim of that, so I wanted to make sure to post at least one picture of her looking like a gorgeous supermodel on my blog. Mission accomplished!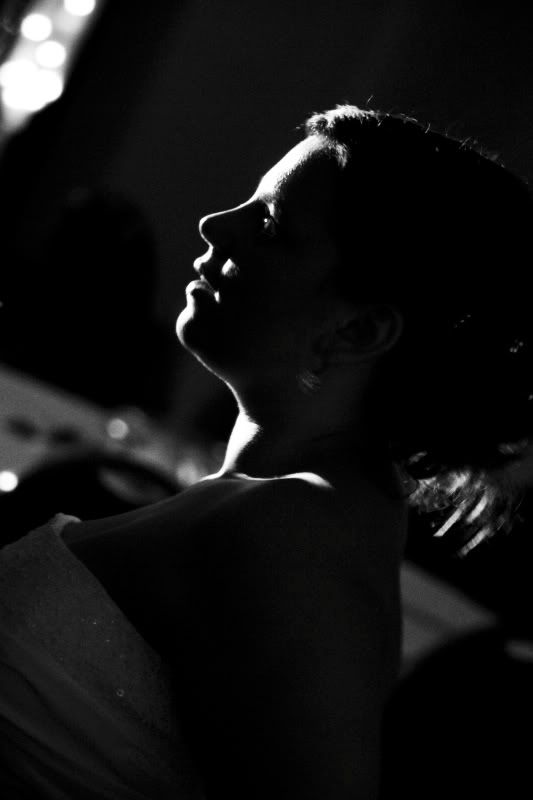 Words can not even express my love for this.
And this! I love the excitement all over her face, and I think it's the perfect way to wrap up the post.
I've been so looking forward to blogging this wedding because I had so much fun at it, and I felt really at home. I loved my time in Muncie and at Ball State, and it was really fun to go back. I commented to Billy on the way home that they really loved their "dance-able country", and Billy pointed out that they also loved some hip-hop. It hit me at that moment that that was perfectly Muncie (and granted, my connecting Muncie and country music may have everything to do with my three years at the Texas Roadhouse there), and that I have loved it in ways I never full recognized.
Meanwhile, Lacey and Branson and their families were wonderful to us. They fed us, hugged us, laughed with us--it was a really great wedding and we LOVED getting to be a part of it. I think that sometime this winter, I am going to have to have a Muncie day to visit my friends that are still living there, and then I will force Lacey and Branson to see me again and hang out! Yay! It's such a simple diabolical plan that it just might work!
As you may have guessed, Lacey and Branson's gallery is up at
http://sarahbrownphotography.instaproofs.com
, and as always, online ordering is available!