So I don't make that many personal appearances on my own blog, but are you ready for me to unleash the hotness?


Me and Billy, looking gorgeous before
Taste of Chicago
. Amy took this picture while we waited on the train, and I think she did a BITCHIN job. She insists that it's because of me bossing her around (which, you know, is kind of my M.O.), but even how she framed the pic is awesome. It's TOTALLY getting printed and going into a frame.
Anyway, this was our first year going to the Taste and we were totally prepared for the worst in terms of crowds and so forth, but it was really great. Word is, the city took a lot of lessons that they learned from the Obama rally and applied them here, and I thought the whole thing was really awesome--very open and even though there were a ton of people, it didn't feel crowded at all.
I made it my personal mission to take a picture of all the food that I ate so that I could blog about it. Bear in mind, I used my point and shoot, which is awesome for detecting faces but gets confused about ... not faces. At least it does on whatever setting I have it on right now. So some of the pictures are pretty fuzzy, but you'll get the general idea. Ready? Let's eat.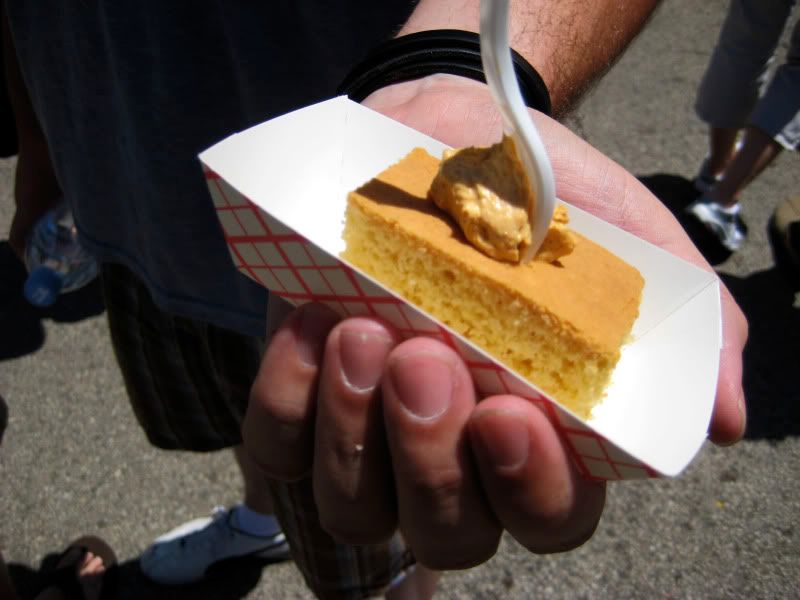 The first thing I went for was the cornbread with honey chili butter from Blue Bayou, which is a restaurant that I have eaten at a couple of times, but I've never seen this on the menu. Well, and the last time I was there, I had had two beers, which everyone knows will do me in, and I was yelling at Amy for not just letting me eat at Taco Bell. So I may not have been looking at the menu that closely. But everything we've had there is good, especially Amy's nachos, which I just started eating right off her plate.
These are the sweet potato hashbrowns from a restaurant called, appropriately, Hashbrowns. I was really excited about these, but they ended up being my least favorite food of the day. Which isn't to say they were BAD, I totally ate them, but they just weren't awesome. I was hoping for crispy and they were not, although the onions in there did kind of add something. But ultimately, the texture was just weird and they were cut like spaghetti. I don't know. Not awesome.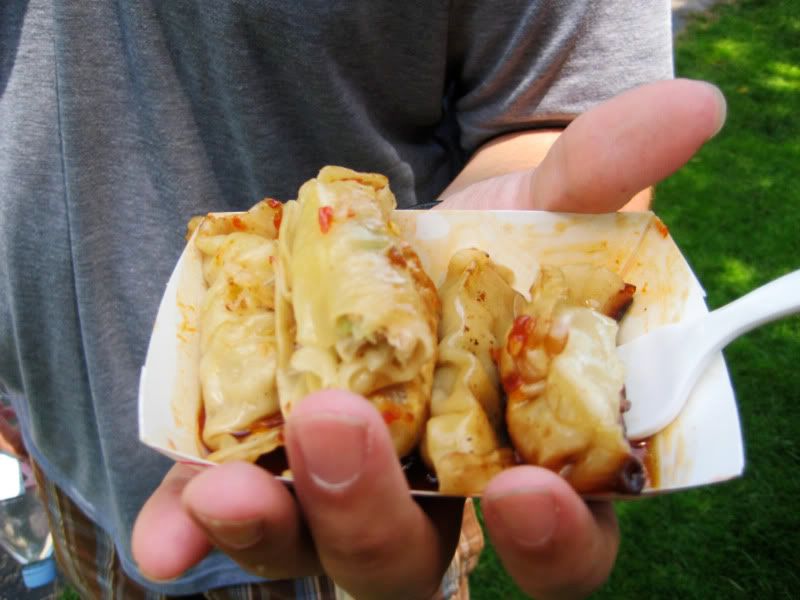 OMG, though, these were incredible. INCREDIBLE. What you see here is a taste portion (so littler and cheaper), minus one potsticker that I already ate--GREAT deal, and you know I love a bargain. They were from Star of Siam, and they were chicken potstickers, which I hadn't had before. Seriously, I need to go to this restaurant. They actually tasted like chicken! I hate when chicken is questionable, and it has resulted in me dismissing more than one Asian restaurant. This was perfect, and so spicy. Great texture ... my mouth is watering again thinking about it. It was TOTALLY messy though, and I spilled a bunch of the sauce right down my boob and arm almost immediately. Completely worth it. They had little sinks set up so when I was done, I wet down some paper towels and gave myself a bath in a park. Mission accomplished, delicious food discovered.
WHAT?!?! My food experience really picked up after those hashbrowns. This is a southern fried tilapia fillet from Polo Cafe & Catering. I am in LOVE with fried tilapia, and it's actually kind of difficult to find--everyone seems to just grill it. So when I saw this on the menu, I knew it would be my "big" thing. And it was incredible. The cornmeal batter was so good, and it was so crunchy, not greasy at all, and this is the point where I realized that all the good food is on the south side. You know I'll be heading over to this one next time the fried tilapia craving hits, but thankfully, this satisfied me for a little while at least.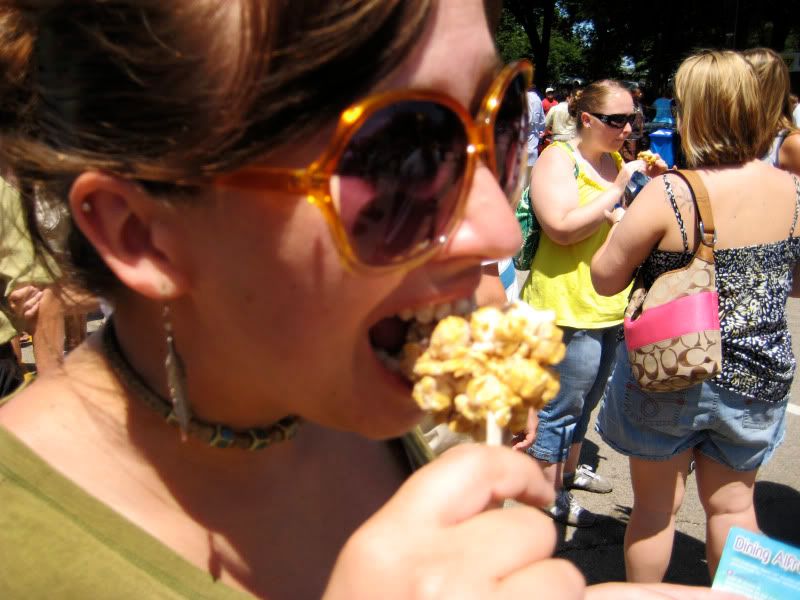 Alright, so just ignore the crisp, clear strangers in the background and focus on the blurry babe closest to you. This was from Garrett Popcorn, and was probably the thing I was most excited about during the entire day. I made sure to save room for it since their stand was at the very end. What is it, you say? It's a POPCORNSICLE. Glorious.
They take their popcorn, make it into a ball on a stick, and dip it in liquid nitrogen before handing it off to you, so it's smoking (like dry ice, not like cigarettes) when you get it. I think it's supposed to be the popcorn and cheese mix (my fave), but the one I got was all carmel corn, I believe. But it was super delicious and so cool--it's kind of hard to describe, but it was just like popcorn, but really cold. The texture wasn't any different though, was the cool part. I'm pretty sure they're selling them in their stores right now too, so I recommend checking it out if only for the experience.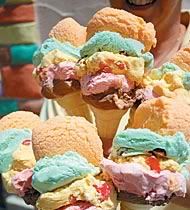 Okay, after the popcornsicle, I was so excited that I forgot to take pictures of the rest of my food, so this one is from
http://chicago.timeout.com/
. It's a picture of the Original Rainbow Cone, which is also apparently a south side institution. I just got a taste portion of this too, all the flavors in a cup, because I wasn't sure I'd like it. But we'd seen it on Food Network, and since trying food that we see on TV is something that we can kind of uniquely do in Chicago, I went for it. And you know, it was really, really good.
The flavors are layered in a really specific order, which is (top to bottom): orange sherbet, pistachio, palmer, strawberry, and chocolate. As a rule, the only one of these ice cream flavors that I ever eat given the choice is orange sherbet, but they went so well together, and the sherbet tasted great with everything, and the chocolate really anchored it all together. I was super impressed.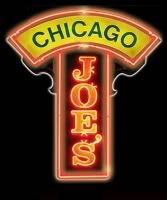 And finally, I had like three more tickets to use, so I got some fries from Chicago Joe's. I couldn't find a picture online so I went with one of the sign (from www.yourareacode.com), but do you know what they actually reminded me of? You Ball Staters will appreciate this--they reminded me of the seasoned fries in the dorms, those ones that are really thick and crispy with some seasoning on them? Good lord, I loved those fries. I'm actually considering moving back into the dorms right now, just thinking about them. But yeah, they were like that, really thick and crunchy outside with an inside so squishy it could barely be called a solid. I sort of wish I'd gone with these alongside the tilapia and finished off with the rainbow cone taste, but these were still really great, and this place is really close to Amy if I ever want to recreate the experience. Sweet!



Alright, so bottom line, I really enjoyed this. It was like going to a fair to eat food, only more gourmet and without the pretense of rides and animals and stuff. You are there to EAT, and we did, so mission accomplished. If the crowds are scaring you off, definitely don't let them--I hate huge crowds and wall-to-wall people, and this was totally manageable for me. Not even uncomfortable. And if you read on the internet that people get sick from the food at the taste ... I mean, I'm sure they do, but there's also a huge amount of people that go who don't get sick (me and my entire party included--that's five people, if you're keeping track), but you don't read about that because the internet is for complaining. :) Seriously, it was awesome. I totally want to go back, and at the very least, go visit some of the restaurants I tasted. Success all around!