So it was really hard to come up with a Big Lebowski title that didn't involve outright cussin'! Because while I enjoy the dirty words and have myself been known on occasion to swear like a filthy, filthy sailor (it's really fun, you should try it), I do try to keep the blog at a certain level of dignity. I probably ought to just start a different blog where I can be as crass and foul as I want, but I totally digress.

Me and Billy went into the city on Saturday evening with the intention of going to Venetian Night, which is apparently some sort of boat parade where they light up their boats ... I don't know, I'm not doing it justice, but it sounded cool, okay? And also, can I just say how much I love living by a lake? I think that anywhere we live in the future will have to involve water because it's a whole different world. And I like that world.
GOOD LORD, I am the tangent queen today. My high school chemistry teacher would start drawing this wandering line whenever someone went off on a tangent or derailed the class, and he called it a bunny trail. I've been on a few bunny trails already in this post, and now I'm doing it again.


Anyway, Amy thought it might already be crowded and blah blah some other stuff, we decided not to go. But Billy and I did not drag ourselves and our dog into the city from the depths of suburban hell just to sit on the couch, so an alternate plan was formed, and we decided to go bowling. Timber Lanes was described on its website as a place that The Dude would be proud to bowl, and more importantly, it was right around the corner and about half the price of anywhere else, so it was a no-brainer.
First things first, I LOVE BOWLING SHOES. And the older and crappier they are, the more I love them. I like their slick bottoms and their two tones and how they make your feet look. Definitely one of the greatest things about bowling, if you ask me.

On the flip side, keeping score. None of us really knew how, but Amy was brave enough to give it a shot. And now let me just say here that I am a TERRIBLE bowler. I'm not even that good at Wii Bowling, but in real life, it's like ... wow, how can someone be so bad at it? I think my high bowling score in my life is somewhere in the 50's.


Until this fateful night! I was on a roll! It was all spares and strikes and puppies and rainbows! I couldn't believe it, and it was so funny because Billy and Amy have been bowling with me before and know how abnormal this is. Amy totally screwed me on the scoring though (not her fault, really, but I'm blaming her anyway), so I have no idea what my actual score was. But it's enough for me to know how awesome I did. :)

I obviously had to get a shot of the bowling balls, because like the shoes, they're the best thing about bowling. (There can be two bests, like having two best friends or two best ice cream flavors--why limit yourself?)

The only thing was, I couldn't decide if I liked the closer version or the wider version of the pic, so I decided to take it to the blog for input. Which do you guys like better?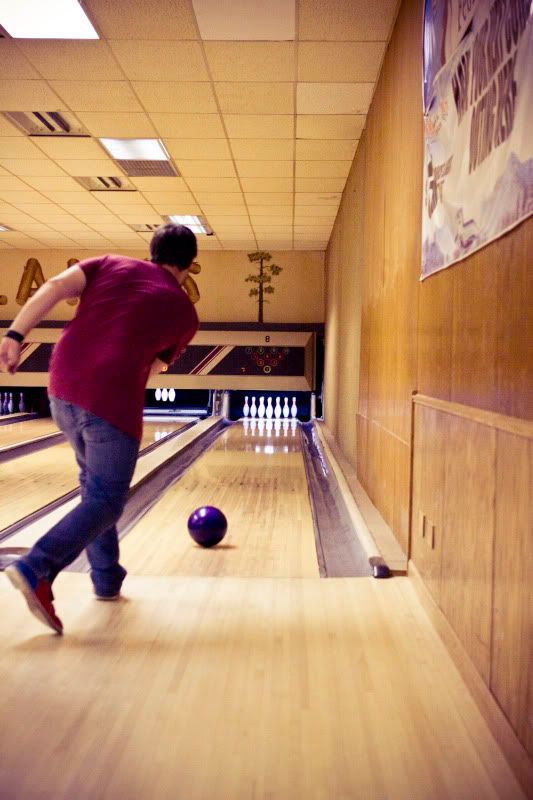 Here is Billy bowling! And seriously, will you look at that form? He makes it look so good. He took a picture of me bowling, and I make it look like the Hunchback of Notre Dame. You should see it--I just kind of hurl myself toward the lane, bend over in half, and fling the ball in the most awkward way you've ever seen--it's definitely not an underhanded roll, but I don't know how to describe it better than that. Walter, Donny, The Dude, Jesus, Smokey ... they'd all be horrified at my form. :)

So the Hunchback picture didn't turn out, but this one kind of did--any guesses about how many pins I knocked over? Also, Billy took my camera a couple times this weekend and took pics of me, including one at the dog beach that I really liked (unlike this one, where I look a little crazy--but still, it had to be shared).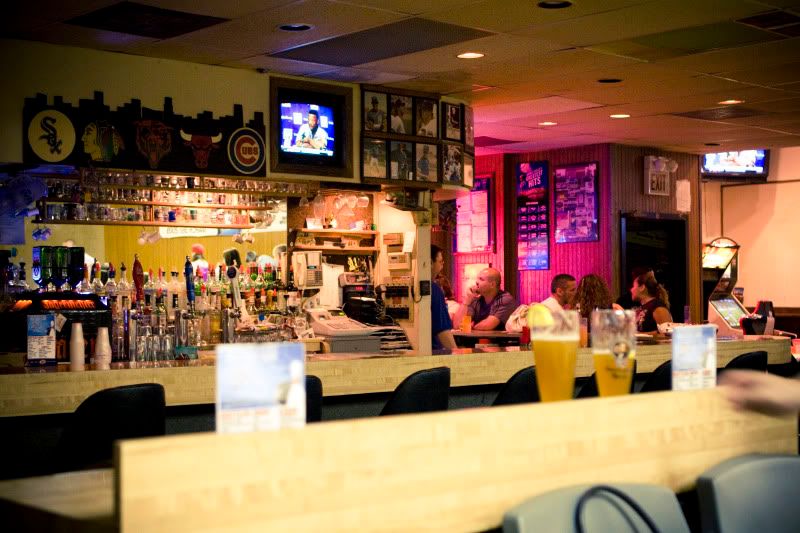 A little shot of the bar, just to give you more of an idea of the ambience.

I was going for that moment when the ball hits the pins and I was a little early on the shutter, but I still REALLY liked this picture, and especially in black and white it just looks so dramatic, and you KNOW what's coming. Also, I really like the noise of bowling. So that's shoes, balls, and noise, for anyone keeping score (which we all know is the hardest/worst part). End of review, be sure to eat breakfast before the test.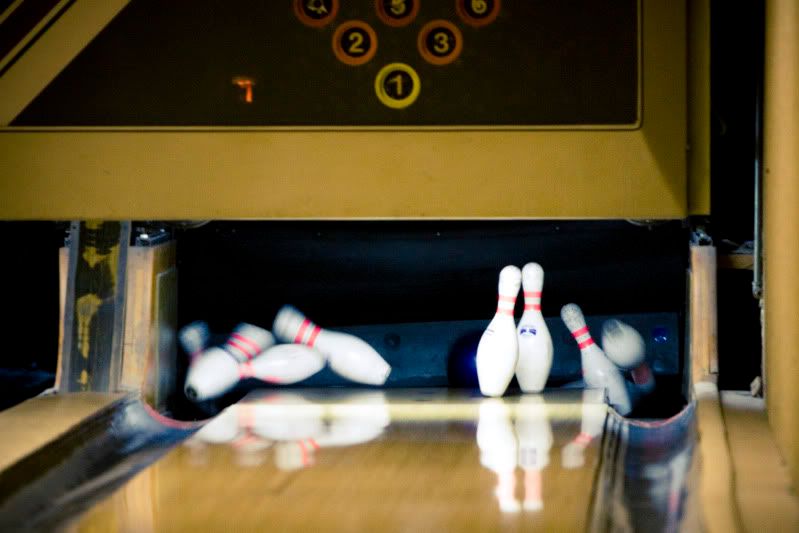 Oh, there's the shot I was going for! I was right on time, it's tricky! (Anybody?)
Now at this point, I had to pack up the camera. I had a beer when we got there, and not one of those crazy triple whatever beers, but we're talking like a Coors Light, okay? And I've told you all that I'm SUCH a lightweight and it is not a joke--I drank that beer pretty fast because it was so hot in there and I was starting to feel a little happy (which is probably also why I was bowling so well, although I can tell you right now that that's a bell curve), so I went ahead and got a second one. Well, when you're me and you drink that fast, it means that it keeps hitting you for awhile after you finish the beer, and about a beer and a half in, I realized whoa, I'm pretty drunk. And that's when I had to pack up my camera, because I can't drink and shoot at the same time. And also, that's why I love all my clients so much but if you offer me a drink at your wedding, I'll always have to turn you down because it's not like the whole "drinking in moderation" thing works when one beer does you in. And also because wearing a lampshade and dancing on a table might be funny, but probably not at someone's wedding. That you are being paid to photograph and capture memories for a lifetime.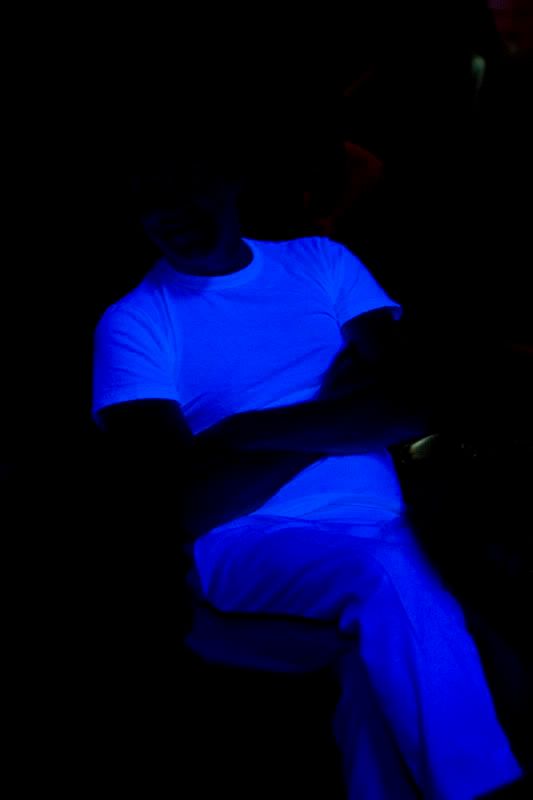 Beer and a half not withstanding, we had no idea that they were going to go cosmic, and Daniel had worn all white and that was just TOO priceless to pass up. I love this picture.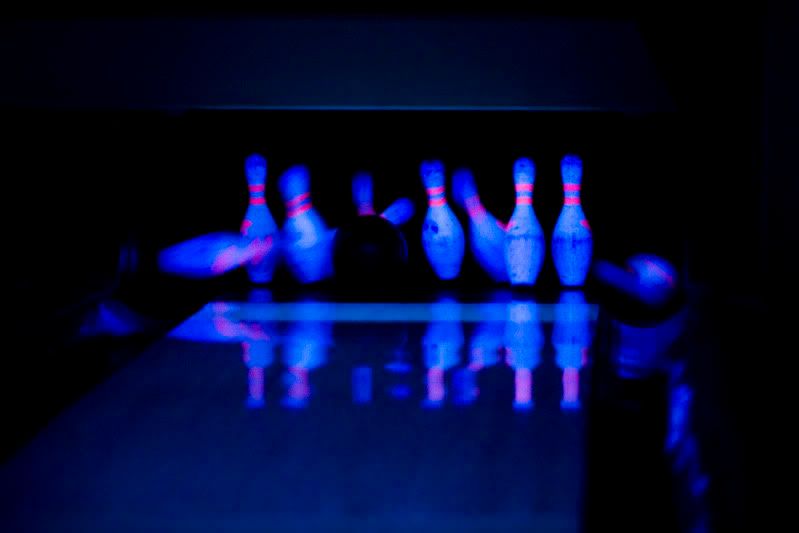 Since I had the camera out anyway, I figured I might as well go ahead and take a picture of the cosmic pins falling, but once I got one, I packed it up packed it in and called it a day.
You guys are really just getting all of my adventures one at a time, instead of the marathon blog posts I usually do, but I'm sort of enjoying this instant gratification of sharing thing. I still have Flashy's dog beach pictures to work on, but I don't know if I'm going to get to it right away because tonight I'm trying to convince Billy to use our free Hollywood passes on The Orphan (MAN, I love a good horror movie), and tomorrow we're heading down to Holiday World in southern Indiana to meet our friends Carrie and Jeff, and this will be the last weekend before the true insanity of August is unleashed--two weddings, a bridal session, a senior, and a portrait session all in a two week period. Craziness! I can't wait!