Yup, that's right, we've got a senior on our hands! I've been making Alex (and her poor mom, Sherri) wait forEVER for these, so I owe them a huge long blog post. Let's get down to business, shall we?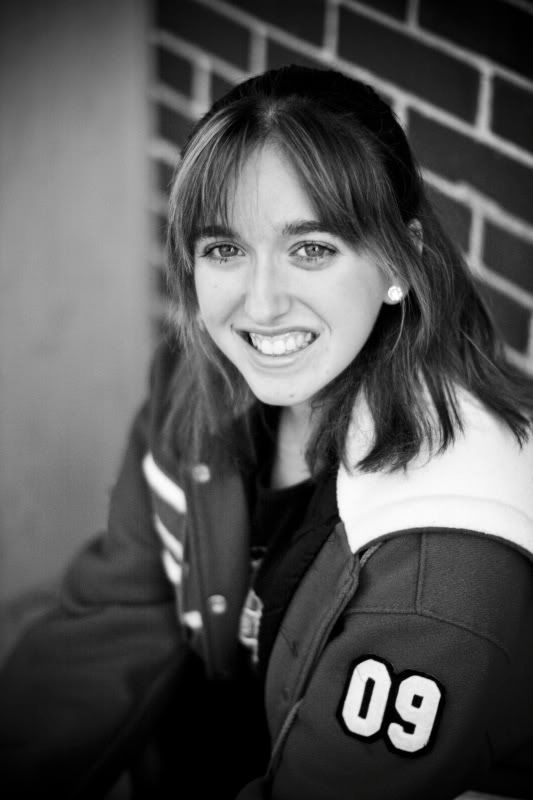 Alex and I found each other through my friend KimO, who set me up with Alex and Akilah (remember, my first gorgeous dancing senior?), who she knows from doing dance team choreography at their high school. As I am one of the most uncoordinated, terrible dancers I know, this makes me terribly impressed with all three of them.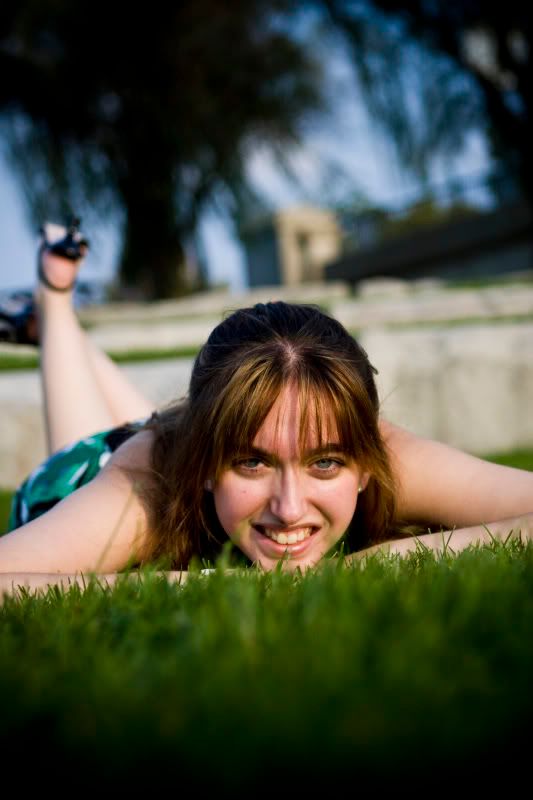 We were lucky to get a super gorgeous day on the canal. This actually was in front of the NCAA Hall of Champions, if I recall, which holds fond memories for me, especially of one particular summer day where me and all my girlfriends were single and kicking it, and decided to go sunbathing and then accidentally wandered over to the TGI Friday's at the Marriott for daquiris on the patio at like two in the afternoon. Good times. And if there are any minors reading this, I was at least 24 years old and I didn't drive anywhere. Stay in school.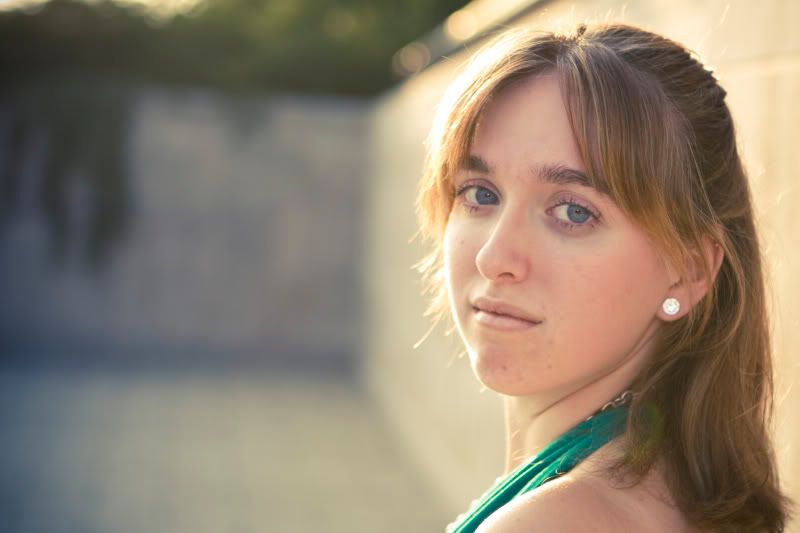 Perfect light.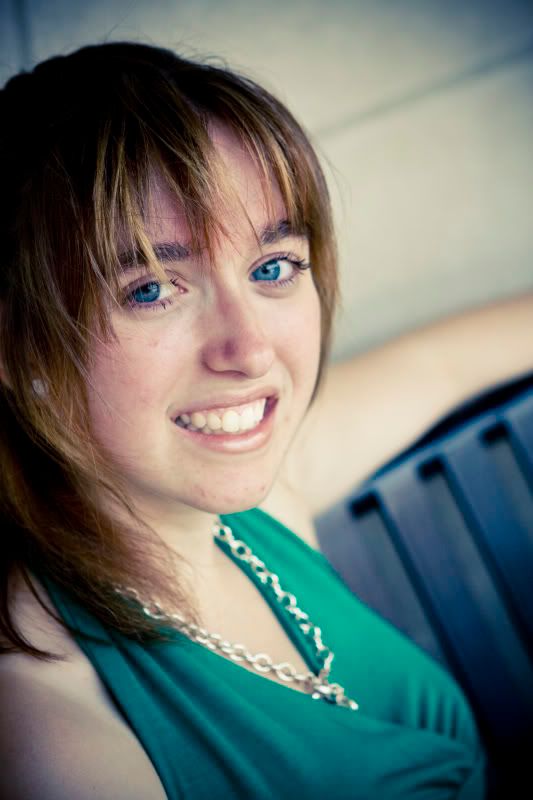 Not necessarily related to Alex so much, but an aside inspired by her picture, is that I think I need to make an appointment with my hairstylist in Indy (once you find a good one, it doesn't matter if you move four hours away, YOU KEEP HER) so she can give me bangs. I am all about it right now. Plus, if I don't like them (unlikely ... you guys should see the things this girl can do with a haircut), my hair grows ridiculously fast and they'd be easy to grow out.
See? Look at this--she has such pretty eyes and the bangs like beckon you to look at them. I'm hoping it isn't just the magic of Alex and that it'll work on me too.

Oh, switchin' it up, gettin' a little artistic. This picture totally does not look like where we were at all. We were in the sun, across the street from a very busy baseball diamond (go Indians). But I find that I usually throw in one or two pretty dark pictures for my seniors, because no matter how happy and sunny you usually are, part of being a teenager is that you feel a little moody sometimes. And yeah, it sucks, but think about how many awesome movies and TV shows are based solely around this fact? I mean, look at me, I'm 27 years old and you could still get me to stop dead in my tracks for an episode of My So-Called Life.
Also ... I totally bought tickets to the midnight showing of Twilight tomorrow. Just saying.
Aaaahhhh, so pretty! Eyes and bangs, I'm TELLING you!
Like we could pass up this little section of the mural and not give dancing a little shout out! Don't you just love the brightness?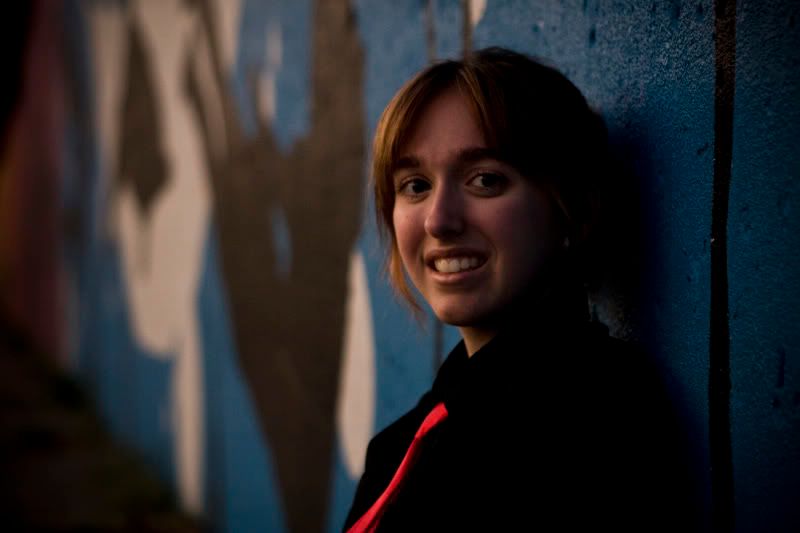 And don't you just love the opposite of brightness? You know, as a photographer, you kind of have to accept that your favorites and the client's favorites are often not going to be the same thing. I would expect that Alex and her family might prefer lighter pictures where you can see more of her pretty face (which is totally understandable, I would too), but as a photographer, I love this picture for the mood and tone and it was definitely one of my favorites of the session.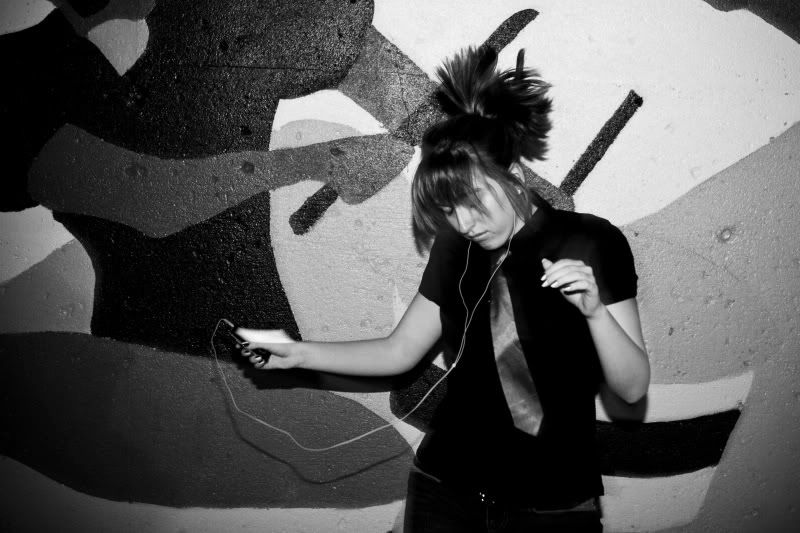 We put a twist on the iPod pics and went to the place on the mural where there was music and dancing. And by the way, Alex and Sherri, thank you for walking so far with me. I still cringe when I think about the nighttime hike I took you on. And the roadkill. Yikes.
But then I admire this picture with the ponytail flying up, and I feel less sorry. :)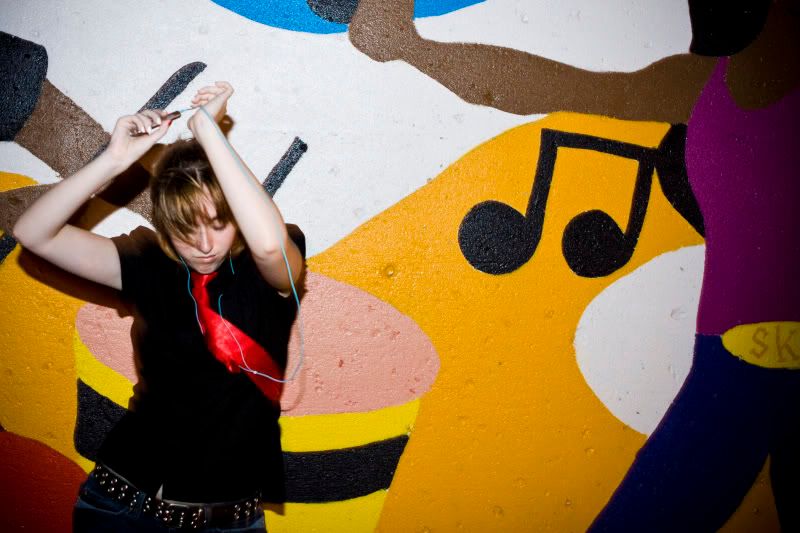 Remember how I said I'm the world's worst dancer? Yeah, it's still true. Nothing's changed since the beginning of this post. But Alex is so fluid and graceful when she dances, and pictures do it no justice at all. It's like how no pictures or video do justice to how many people were in Grant Park on election night ... it's something you just have to experience. Nonetheless, I gave it my best shot (pun!), and I love how "in the moment" she looks.
Alex, Sherri, thank you so much for your patience and for indulging all my whims on our shoot! I had so much fun with you, and I hope senior year is going awesome!
If you want to see the rest of the pictures, they're up in a gallery named "Alex" on my
Instaproofs
site. The password is Alex's last name, and as always, online ordering is available! Happy looking!