Like the title? It's kind of a pun, like it's an appetizer to get you wanting more, but also it's on a GOLF course ... huh? Right? Like it? Okay then.
Remember how I told you guys I couldn't WAIT to blog Rachel and John's wedding? Yeah, still true. They got married on her family's golf course, and so we were able to run around and do a lot of fun stuff, and I GOT MY OWN GOLF CART. It was magical, and I'll give you all the details in the full post, but for now, sneak peak--prepare to be amazed.
I think that whoever cares for the greens was okay with the heels poking holes, because then he wouldn't have to aerate it or something? I don't know--I know nothing about lawn care and even less about golf courses, but it seemed reasonable. :)
Oh, STOP. Stop stop stop. Too hot!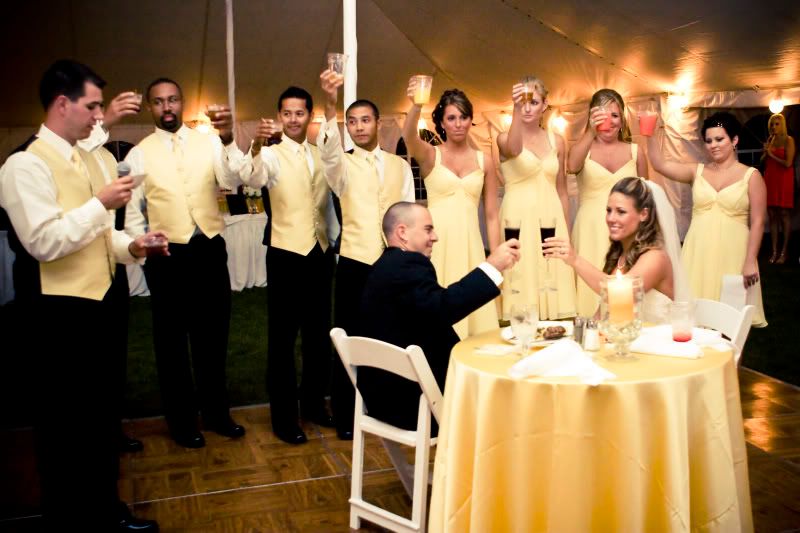 For the toasts, the whole bridal party stood up behind their table, and I loved that, and it made for great pictures. And doesn't everything look madly classy? I thought the yellow was so pretty--perfect for a late summer golf course wedding. :)
I'm going to try to really push hard on my last couple of weddings to make sure that everyone gets their pictures before Christmas, but I want to spend the same copious amounts of time on all of them. I'm just telling you all this so that if you are my friend, you will understand why I have no life and/or might not be able to talk about anything but photography (or, at any rate, slightly moreso than usual), and if you are my client, you know that I am SO all over it. This is a big goal for me and I don't honestly know yet if I can do it, but I will make absolutely sure that everyone has SOMETHING by Christmas. I will not Grinch you on this, I promise.