So, I have been excited to blog about Carrie and Mike's wedding since I very first met Carrie in the Mass Ave Starbucks last winter, because I instantly knew she was my kind of girl when she gave me my favorite compliment on my photography, possibly ever. And it was this:
"I just like that you don't do all the typical bullshit."
THAT'S WHAT I WAS GOING FOR! I was so excited. :) And so I was already pumped for this wedding, which was going to happen on the canal and inside the Indiana State Museum, and I show up, and Carrie is even more gorgeous than I remember, and Mike is fun and funny and awesome to be around, and they're getting married in perfect sunlight ... it was such a dream, I loved it. So, shall we?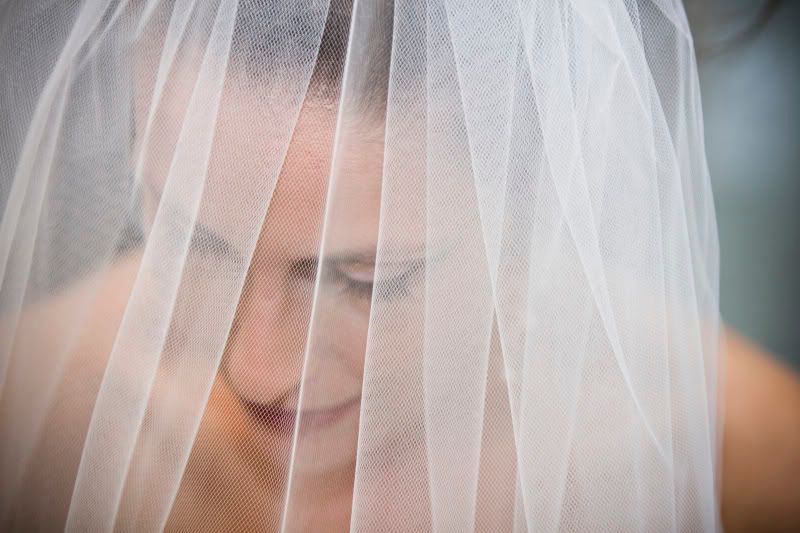 See? She is perfection in a wedding dress.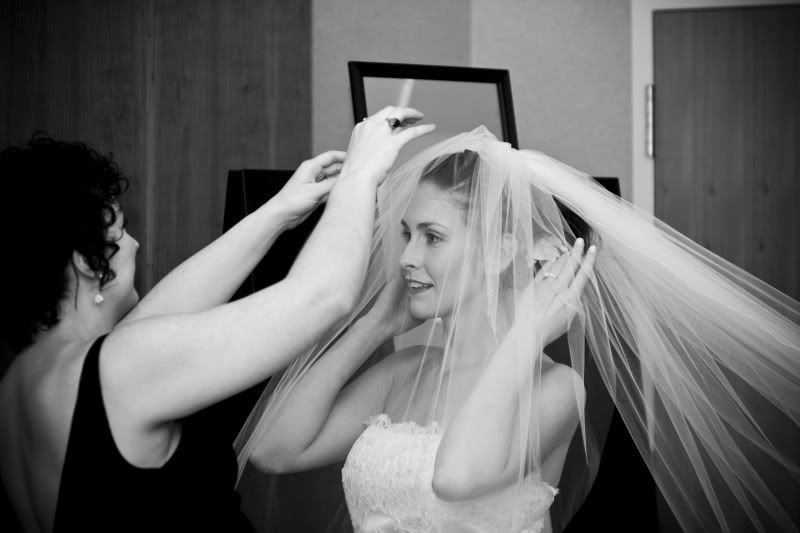 This veil was killer. It was really, really long, but it also had a short little part that went over the face, and that velcroed onto the big veil. I mean, it really was a good and practical set up, but it became super special to me and Billy when we later heard Mike refer to it as a Transformer.
But I will love the veil (and the light wind) forever for giving us this shot.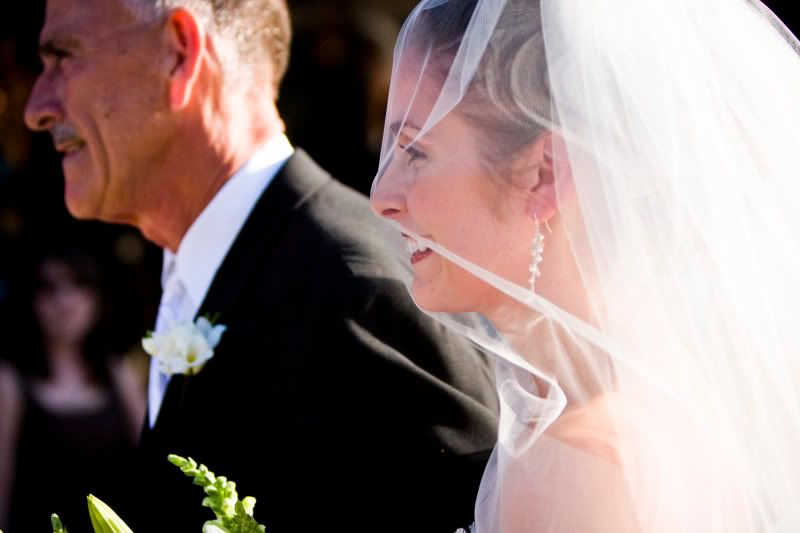 And this one! Do you see why it had to be included in the title? It definitely earned it, and we're not even done yet.
Here's the handsome groom, and my favorite part of this is how there's like perfect rays of light from heaven shining down on his head from behind. Do you see it?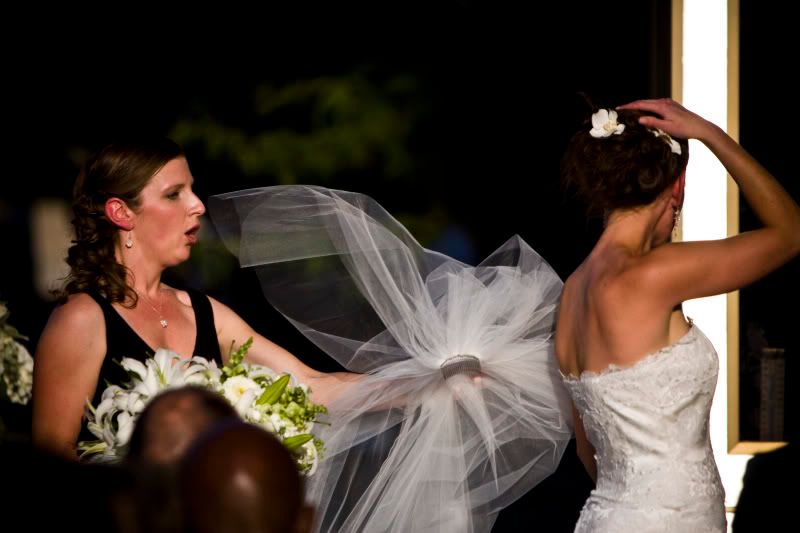 Apparently, the veil wasn't getting enough attention at that moment and got a little diva on us and flew off. (In actuality, I think it got loosened a little bit on the walk down the steps and aisle.) The look on Carrie's sister's face KILLED me, and this is one of my favorites as a result. It was no big deal, though--Carrie's sister and dad fixed it, everyone got a little laugh, and the show went on.
And can I just say ... her DAD helped fix it! My dad would not have the first clue what to do. I remember once when I was like seven or eight, my mom had to work late so my dad took me to softball practice, and I needed to have my hair put in a ponytail, which he obviously did not have any idea how to do, because he tied a SATIN RIBBON around my hair and expected that to work! People, my hair is so slick it sometimes has a hard time staying in an actual ponytail holder, so this sad solution didn't last more than like ... 30 seconds once I took my spot in right field (which, as you may know, is where they put the kids who are absolutely nightmarish at softball, so they can look at dandelions and daydream about cloud pictures or whatever). So anyway, her dad even considering helping was probably about as foreign a concept to me as if Iron Man showed up to fight crime and dazzle us with a few witty one-liners at right that very second. I'm just saying.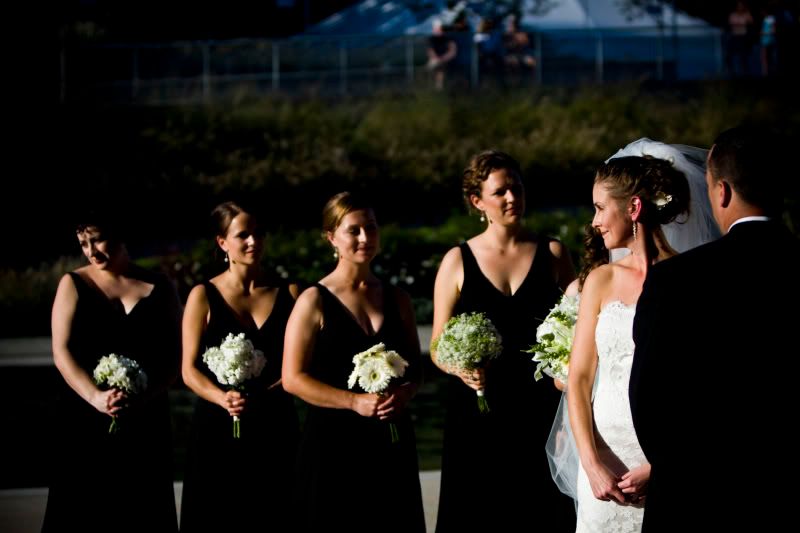 I LOVE this.
Look at how happy they are! And does anyone else think that preacher looks TOTALLY like David Cross?
Feel the love!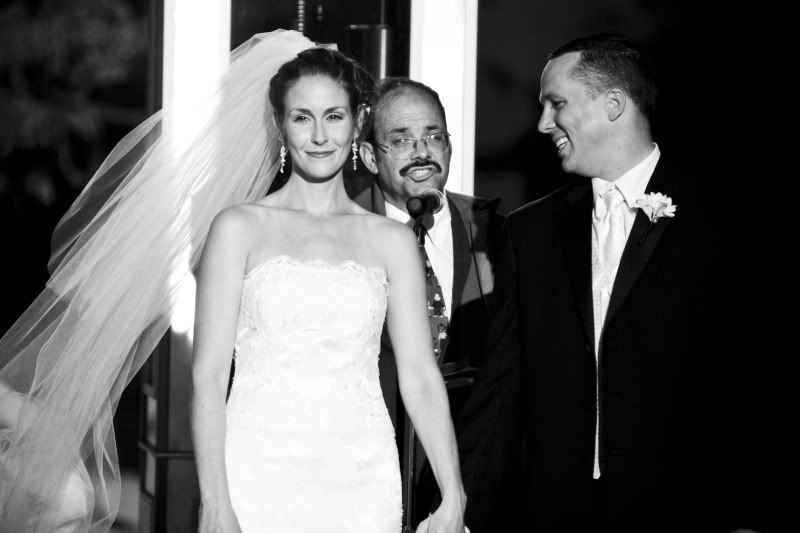 Now this one, I'm sorry Mr. Preacher Man because I know you're talking and it's not your fault that you're making a crazy face, but I couldn't resist posting this because Carrie looks goddess-like beautiful here. I mean, she looks like when Arwen first shows up in Lord of the Rings. Also, apparently today is going to be the day where I out myself on all my nerd movie loves. Basically, if Dwight Schrute loves something, you can be pretty sure that I do too.
I always like the shots of the groom holding the bouquet. I think it's because it reminds me of when you're trying on dresses or something and your boyfriend has to hold your purse, except on your wedding day, they're actually happy to do it instead of rolling their eyes and trying to hide it under their folded arms (and thereby squishing your granola bars and Kleenex and whatever else you have in there, depending on the size of your purse--mine is gaining weight by the day and I think it needs to go to whatever the purse equivalent of Jenny Craig is, like, asap).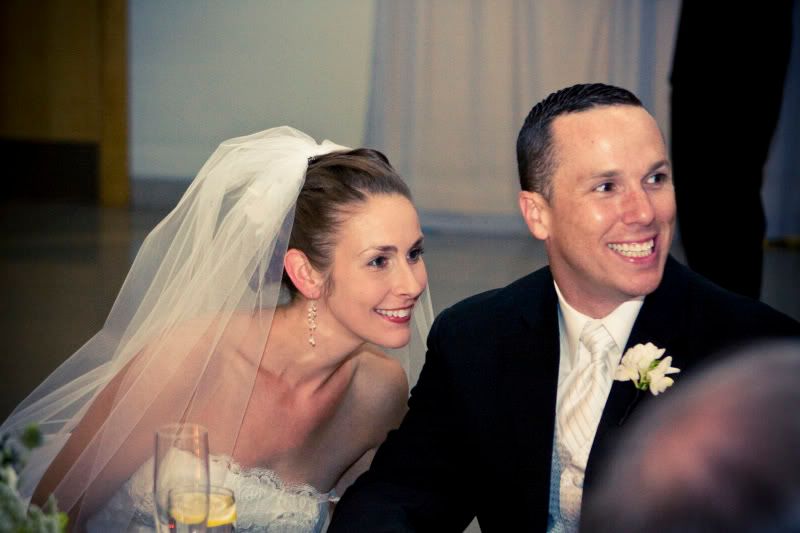 I know they don't have any, but I already want to show this picture to their grandkids.
The Indianapolis skyline from the canal. I love, LOVE, how the sunset is reflecting in the windows, making the bottom parts of the building look like they're on fire in the good way. This picture makes me miss Indy--I love how it came out.
Mike's dad and best man, giving a toast and looking so happy and awesome. These two had awesome families.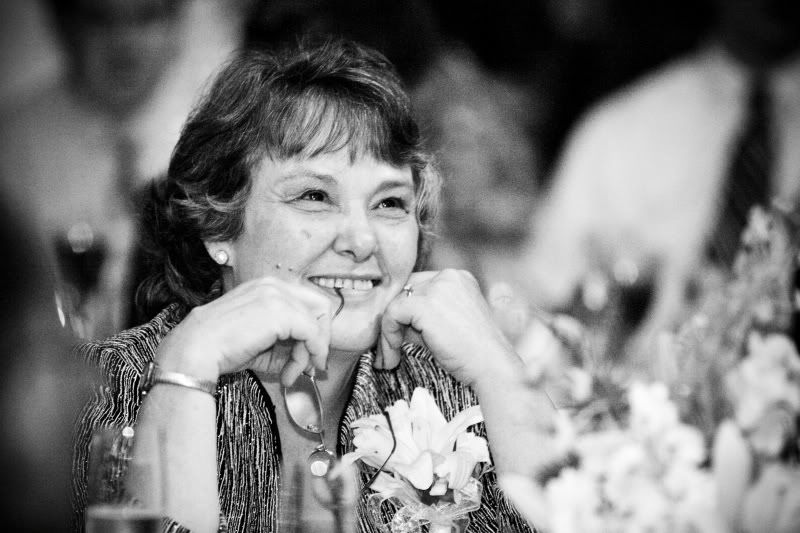 Mike's mom--I really loved the moment.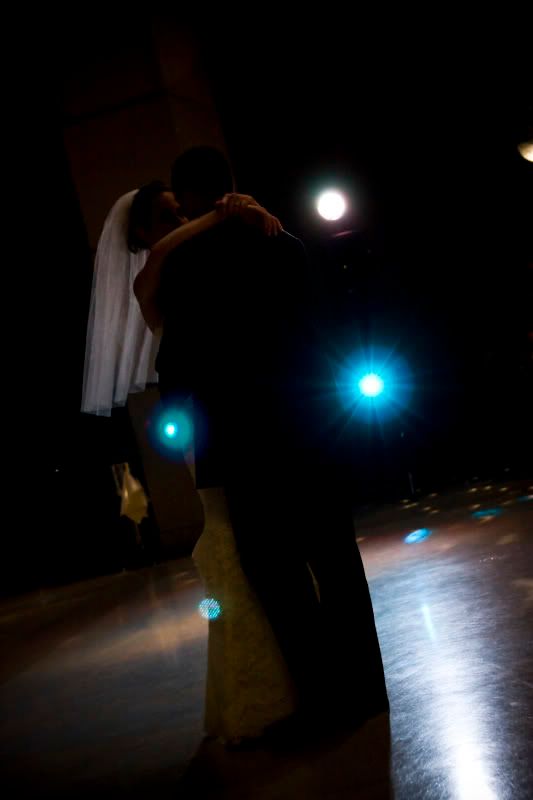 The first dance!
I think he likes to headbutt her, because I have a few pictures from the day of that. I hope so, anyway, so they'll look at this picture and be like, "Awwww, headbutting!" (Y'all, this is why I don't write the romance novels.)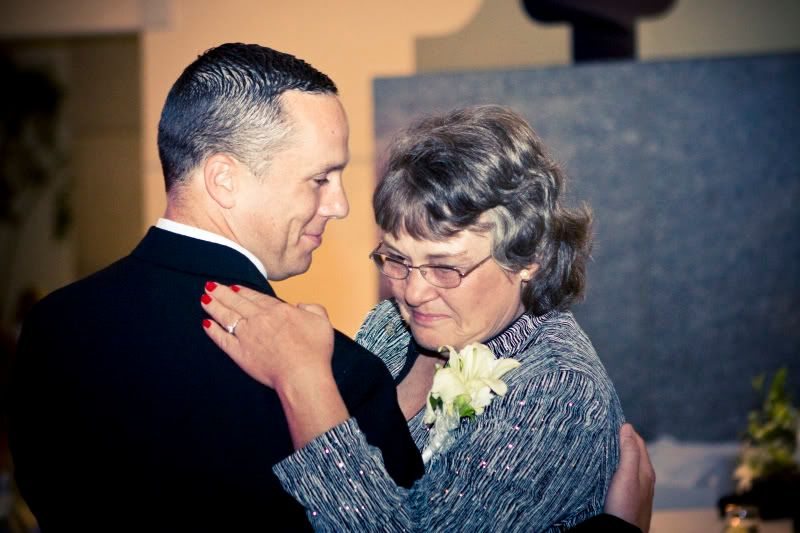 Oh, STOP! This one kills me. I just feel like there are no words but it says it all.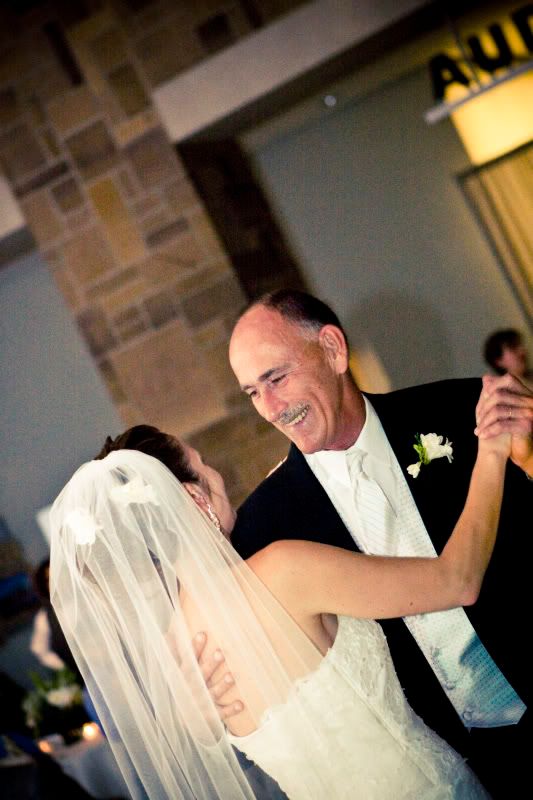 Oh, and Carrie and her dad are equally smashing. And seriously, the State Museum was perfect. I loved it. (I know, I know, I'm being redundant with all the love but I really can't help it! It's all true!)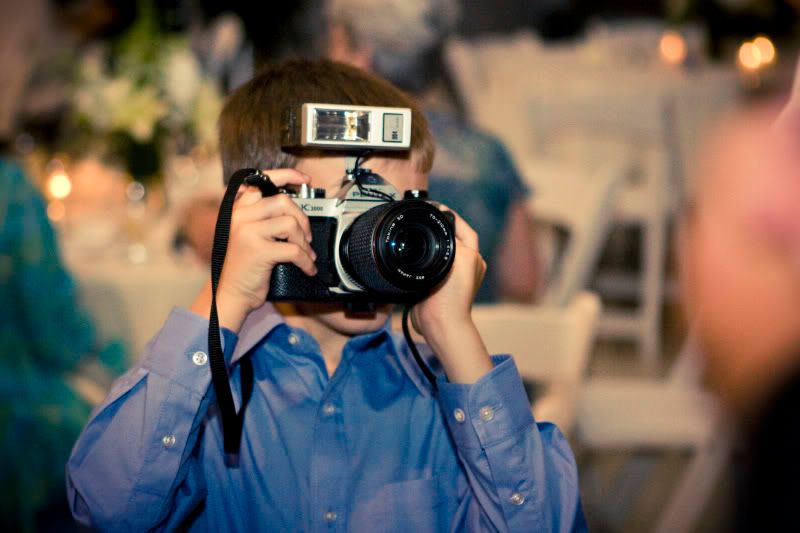 I could seriously frame this and put it on my wall. (And I might.)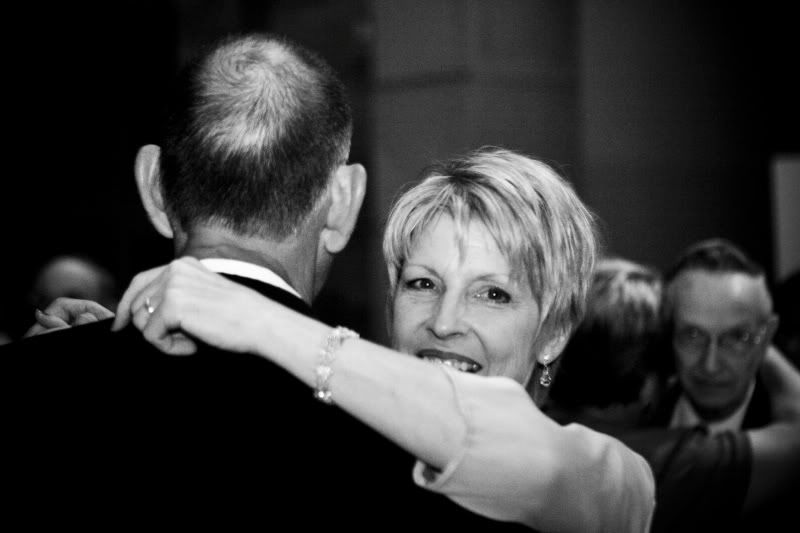 Carrie's mom. Easy to see where she gets her pretty face and smiley eyes.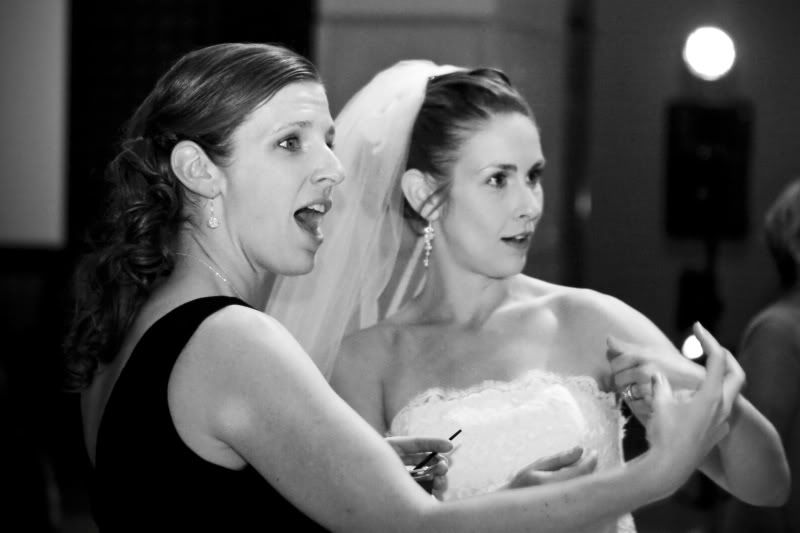 Carrie and her sister, and I love this because you know they are about to cause some sort of trouble, and you also know that they are not rookies.
And also, I'm so sorry, I can't remember Carrie's sister's name, and I'm so mad at myself about that, but there is actually a reason, and it's that she looks almost exactly like one of my mom's friend's daughters, whose name is Shelly. So now I'm stuck and I know her name ISN'T Shelly, but I can't get past it. So Sister-Not-Shelly, I'm so sorry and it doesn't mean I don't love you, it just means that I'm forgetful. :)
I made this lady let me take a picture of her because I LOVE her head accessory and I want one really bad, but I think I may have to wait till I'm older and fabulous with shorter hair, but this is PERFECTION for me. She looks amazing.
I think short hair must be in my future, because I picked out someone else that I want to be when I'm like, late 50's, early 60's. I worked with her one summer in Virginia, and she had white hair and her name was Shirley. She and her friend Barbara would get dressed up and go to town, and come back with tons of ingredients for margaritas, which they would proceed to make and drink at the picnic tables. I'd see her flying around the curves back up the mountain in her convertible, and she had the wind in her short white hair and she'd be smoking cigarettes and generally looking awesome.
So, okay, I think I can really pick up smoking, but I'm pretty sure I can one day make a convertible happen. Maybe I can use candy cigarettes as stand-ins.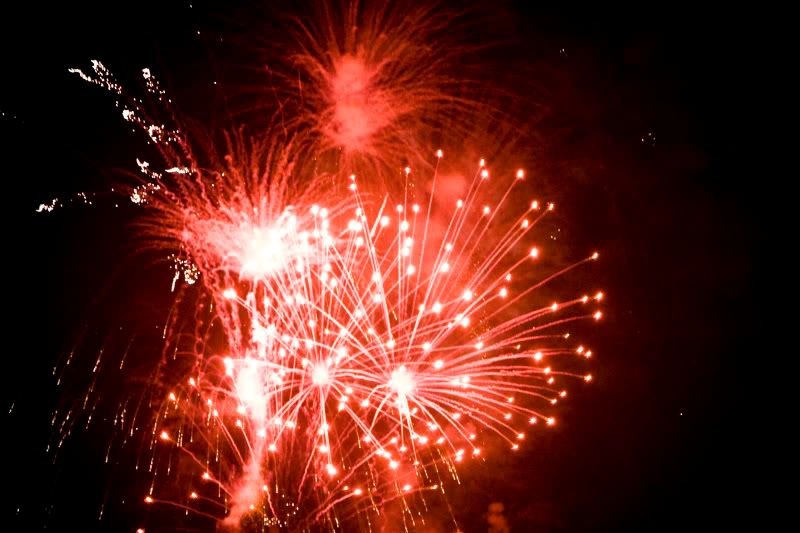 And finally, we never made it outside to see the fireworks, but Billy did head out and take a few shots. Firework pictures are really hard to get and not have camera shake, so I was extra super impressed with this one, and it's beautiful. Plus, like the sunset and the skyline, it was all part of their night, you know? Like the city was celebrating with us.
Awww, MAN, am I done with this post already? It flew by. I'll have a post-wedding couples session (with dogs!) to post later, so we're not totally done with Mike and Carrie yet! And in the meantime, if you want to check out their gallery, it's at http://sarahbrownphotography.instaproofs.com. I hope you love it all as much as I do!